The Artist and Hugo top Critics' nods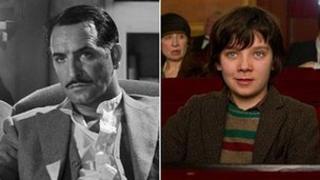 Silent film The Artist and family drama Hugo are leading the nominations for Hollywood's Critics' Choice Awards with 11 nods each.
Both films scored nominations for best film and for their directors Michel Hazanavicius and Martin Scorsese.
Surprise US hit The Help and Ryan Gosling crime drama Drive gained eight nods each, while The Descendants and War Horse both collected seven.
All four films will also compete for the best film award.
Brad Pitt is nominated for best actor for his role in Moneyball, as is Leonardo DiCaprio for J Edgar.
George Clooney, Ryan Gosling, Jean Dujardin and Michael Fassbender are also nominated for their performances in The Descendants, Drive, The Artist and Shame respectively.
In the best actress category, Meryl Streep is nominated for her role as Margaret Thatcher in The Iron Lady.
She will compete against Michelle Williams for My Week With Marilyn, Viola Davis for The Help, Elizabeth Olsen for Martha Marcy May Marlene, We Need to Talk About Kevin's Tilda Swinton, and Charlize Theron for Young Adult.
British nods came in the best supporting actor and actress categories for Kenneth Branagh for My Week With Marilyn, Carey Mulligan for Drive and also Andy Serkis for his performance-capture work in Rise of the Planet of the Apes.
Hugo's Asa Butterfield and Irish actress Saoirse Ronan also scored nominations for best young actor/actress.
British director Stephen Daldry was recognised for his upcoming drama starring Tom Hanks and Sandra Bullock, Extremely Loud and Incredibly Close, which is also up for best film.
Other contenders for best film include Woody Allen's Midnight in Paris, Moneyball and Terrence Malick's The Tree of Life.
The prizes, awarded by the Broadcast Film Critics Association, will be given out at a ceremony in Los Angeles on 12 January.