Tinker Tailor tops London Critics' shortlist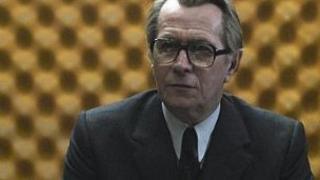 Tinker Tailor Soldier Spy and Drive are at the head of the pack for next year's London Film Critics' Circle awards, with six nominations apiece.
Both movies will compete in the film of the year category. Tinker Tailor is also up for best British film.
Iranian drama A Separation, which won this year's Golden Bear award, has been nominated five times, while We Need To Talk About Kevin receives four nods.
The winners will be announced at a ceremony on 19 January.
Tinker Tailor star Gary Oldman will compete in the actor of the year category, alongside George Clooney for The Descendants, Jean Dujardin for The Artist, Michael Fassbender for Shame and Ryan Gosling for Drive.
Oldman is also included on the best British actor list, alongside Tom Cullen for Weekend and Brendan Gleeson in the Guard.
In the same category, Michael Fassbender is nominated for his roles in two movies, A Dangerous Method and Shame, as is Peter Mullan for Tyrannosaur and War Horse.
Tinker Tailor Soldier Spy is also up for best screenwriter and the award for technical achievement.
The remaining movies in contention for the best film prize include silent movie The Artist and The Tree of Life.
Kill List, Shame and We Need to Talk About Kevin complete the shortlist for best British film, alongside Tinker Tailor.
Drive director Nicolas Winding Refn is nominated in the best director category.
His movie is also recognised for supporting actor (Albert Brooks), best British actress (Carey Mulligan) and the prize for technical achievement.
Kirsten Dunst (Melancholia), Anna Paquin (Margaret), Meryl Streep (The Iron Lady), Tilda Swinton (We Need To Talk About Kevin) and Michelle Williams (My Week With Marilyn) all receive nods in the best actress category.
Earlier this month, it was announced that British director Nicolas Roeg would receive the Dilys Powell Award for Excellence for his contribution to film-making.
Previous recipients of the honour have included Quentin Tarantino, Dirk Bogarde, Richard Attenborough, Julie Walters, Judi Dench and Kristin Scott Thomas.
The awards are voted for by more than 120 members of the circle including critics, broadcasters and writers.
At this year's ceremony, The Social Network and The King's Speech were the big award winners.