Angelina Jolie film screened in Sarajevo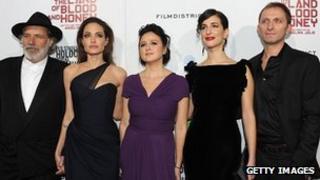 Angelina Jolie's Bosnian war film In the Land of Blood and Honey has been screened in Sarajevo.
The actress's controversial directorial debut tells the love story between a Muslim woman and a Serb man set in war-torn Bosnia.
The film received a mixed reaction from cinema-goers, with some saying it was a realistic depiction of events.
Others in the audience said they were too emotional to watch as it reminded them of the horrors of the conflict.
"The movie is very realistic, moving and hard to watch for someone who was here during the war. I am very emotional," Sabira Sokolovic told AFP.
Another viewer, Rukija Vrckalo, said: "I am speechless, I feel sick. When grenades were exploding in the film, I felt as if the war were still going on."
Pensioner Seid Karic added: "It is a lesson for future generations. Every inhabitant of Bosnia and the former Yugoslavia should see it."
Jolie's film sparked controversy in Sarajevo earlier this year when local media speculated it would tell the controversial story of a Muslim rape victim who falls in love with her Serb attacker.
The reports led to the Association of Women Victims of War to protest over the film and Jolie lost her permit to film in the country for not submitting a screenplay to the government.
Although she later won the permit back, most of the film was shot in neighbouring Hungary.
The film follows couple Danijel and Ajla, who have a relationship before the war and meet up again when Ajla is a prisoner in a Bosnian Serb detention camp commanded by her former lover.
Although Danijel shields her at first, he is transferred and Ajla suffers the same abuse as the other women held with her.
The film shows stark scenes of rape, executions and other war crimes.
Jolie has allowed the Bosnian capital to screen the film for a week before it officially opens in cinemas in Bosnia and the wider region in February 2012.
Most of the Sarajevo audience were Bosnian Muslims. More than 100,000 were killed during the war between 1992-95.
Some Bosnian Serbs have called for the film to be banned, saying it portrays them as villains, but others said they want the film to be shown.
"I am against any bans of art acts," said Nedeljko Zelenovic, the director of the cultural centre in the Serb-held section of Sarajevo.
"The time and audience will give the final judgment."
The film has been honoured by the Producers Guild of America for its portrayal of social issues and will be given the 2012 Stanley Kramer Award at a ceremony in January.
It has also been nominated for a Golden Globe for best foreign-language film.