Carol Channing 'sweetheart' Harry Kullijian dies aged 91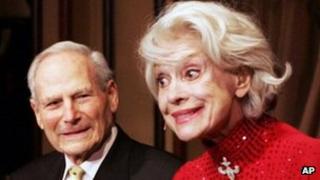 Harry Kullijian, the former childhood sweetheart of Carol Channing whom the veteran actress married in 2003, has died in Rancho Mirage, California.
The former land developer died on Monday on the eve of his 92nd birthday after suffering an aneurysm at home.
Kullijian and Channing were high school sweethearts in the 1930s before the latter's mother split them up.
Reunited decades later, they married in a matter of months when Channing was 82 and Kullijian 83.
Speaking in 2003, Channing said they had "picked up" their relationship from where they left it seven decades earlier.
"The years between disappeared, just disappeared," the Broadway actress told CNN broadcaster Larry King.
Following their marriage, Kullijian became his wife's manager and formed a charitable foundation with her to support arts education in schools.
Born in Turlock, California in 1919, he fought in World War II and Korea before going into walnut farming, real estate and local government.
Channing played the title role in the original 1964 production of Hello Dolly and was Oscar nominated four years later for her performance in Thoroughly Modern Millie.