Peter Bazalgette's career in television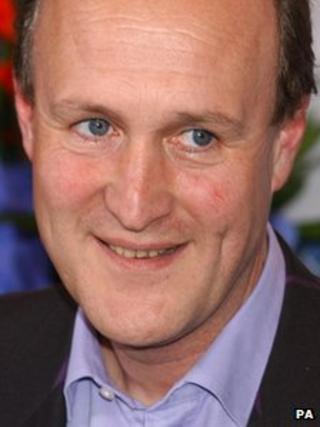 Peter Bazalgette, who is receiving a knighthood for services to broadcasting, is one of the most influential figures in British television.
The 58-year-old, who says his big achievement is "making facts as entertaining as possible", is a pioneer in "how to" and reality TV.
Formats he has created, including Ready Steady Cook, Changing Rooms and Ground Force, have become international hits and he is the man responsible for bringing Big Brother to the UK.
He studied at private school Dulwich College, in south-east London, before going on to Cambridge where he was president of the Cambridge Union Society.
He has said he had no alternative but to follow a career in the media after graduating with "a very poor law degree".
After joining a BBC News trainee scheme, he became a researcher on Esther Rantzen's That's Life before becoming a features reporter for the corporation.
He helped to create BBC Two show Food and Drink, which was launched in 1982.
His production company Bazal - later sold to Dutch producer Endemol - was founded in 1987 and produced a number of British TV hits that were franchised to other countries.
He cites Changing Rooms, which gave designers such as Laurence Llewelyn-Bowen a modest budget to redecorate houses with the help of "handy" Andy Kane, as his "favourite programme of all of them".
"It was revolutionary in its content and form, and became a hit in the US where it's still on," he has said.
"It was only on here for six years but was getting 12 million viewers in its peak - extraordinary."
Ground Force saw gardeners Alan Titchmarsh, Charlie Dimmock and Tommy Walsh perform horticultural makeovers, while Ready Steady Cook saw chefs, including Ainsley Harriott and Anthony Worral Thompson, get to grips with bags of ingredients presented by audience members.
He has said that he is proud of "inventing TV formats that have become hits abroad - from Quebec to Helsinki, from Sydney to Rome, with the pleasure of being ripped off many times in between".
In 1998, he became creative director of Endemol and, two years later, he brought Big Brother to the UK from the Netherlands
The first series, which featured treacherous "nasty" Nick Bateman, dominated headlines in tabloids and broadsheets alike, and the show went on to make the likes of the late Jade Goody into household names.
Controversies included a racism row involving Goody and Bollywood star Shilpa Shetty
But while his successes have consistently put him among the British media's most powerful players, he has also been charged with changing the face of British television for the worse.
The Guardian has accused him of contributing to TV schedules which resemble "a televisual tranquiliser, administered from the top table of British society, down to the TV diners at the bottom".
Bazalgette, though, has said he would "want to be remembered for four or five shows that pushed the story forward and were reasonably original in terms of how we make TV shows".
Bazlagette, who has served as chairman of Endemol UK and as a non-executive director of Channel 4, is deputy chairman of the English National Opera and president of the Royal Television Society, of which he was made a fellow in 2002. He is also a Bafta fellow.