The Lion, The Witch and The Wardrobe to open in London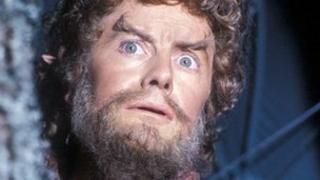 A stage production of The Lion, The Witch and The Wardrobe is to open in London this May, it has been announced.
Based on CS Lewis' classic book, the show will be directed by Rupert Goold, known for his acclaimed productions of Macbeth, King Lear and Oliver!
"The Lion, The Witch and The Wardrobe left a huge impression on me as a child," Goold said.
The show, which will feature video installations and puppetry, will be staged in Kensington Gardens.
Goold, who has won the Olivier award for best director for Enron (2010) and Macbeth (2008), says he wants to modernise the characters.
"What I hope to evoke is the power of faith and the danger of tyranny in a rougher, more elemental telling of the story," he said.
In an interview with The Times newspaper, he elaborated, saying Lucy Pevensie and her siblings would be "less irritating".
He added: "What I wanted to avoid, which has been the pitfall of other stagings, is four children who you can't really differentiate between, who seem rather privileged and succeed through right of their blood line."
The original story is set during World War II and sees the Pevensie siblings sent to the countryside to stay with a relative during the blitz.
They soon discover the alternative world of Narnia on the other side of a magical wardrobe, where they encounter speaking woodland creatures and embark on a series of adventures.
The book, a Christian allegory, has been adapted multiple times for TV and film. Most recently, Disney set about filming the entire seven instalments of the Narnia chronicles.
It tackled The Lion, The Witch and The Wardrobe first - although the events of the story actually place it second in the series' chronology.
After the follow-up, Prince Caspian, under-performed at the box office, Disney passed the series over to 20th Century Fox.
The third instalment, Voyage Of The Dawn Treader, made $415,686,217 million (£266 million) at the box office, but work on the fourth movie, The Magician's Nephew, has stalled.