Sales of DVDs suffer decline during 2011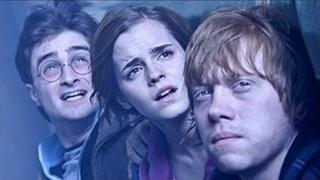 Sales of DVDs in the UK slipped by 7.2% in 2011, according to new figures from the British Video Association.
More than 207 million discs were sold, while downloads and digital rental transactions went up by 12%.
The final two parts of the Harry Potter saga were the best-selling titles of 2011 ahead of The Inbetweeners Movie and The King's Speech.
The run-up to Christmas proved a boon for the market, with December accounting for 23% of physical sales.
The final month of the year is traditionally a very strong time for DVD sales, the BVA said, with £473m being spent on products in December.
British releases proved the most popular of the year, making up seven entries in the top 10.
Pirates of the Caribbean: On Stranger Tides and comic Peter Kay's tour release also made the cut.
In the chart for DVD releases of television shows, the first series of BBC sitcom Mrs Brown's Boys topped the countdown.
Charlie McAuley, chairman of the BVA, said: "In a challenging economic environment it's really encouraging to see people continuing to spend their hard-earned cash on the best of our films, TV and other great video entertainment."