Hugh Jackman to star in Houdini musical on Broadway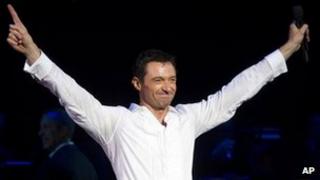 Actor Hugh Jackman has signed up to play Harry Houdini on Broadway in a new musical about the famed illusionist.
"In many ways I've been preparing for this role my whole life," said the 43-year-old star of X-Men and Real Steel.
The musical, to be written by West Wing creator Aaron Sorkin, will open in New York in 2013 or 2014.
Stephen Schwartz, of Wicked fame, will compose the music and lyrics for a show described as a contemporary look at the magician's life and death.
"I have been deeply fascinated by the life of Houdini since I was young," said Jackman, who previously played an illusionist in 2006 film The Prestige.
"I am thrilled to be collaborating with this collection of artists who are all at the top of their game."
Sorkin said the musical "tells the story of an epic battle that took place between the world's greatest illusionist and a trio of women, known as 'Spiritualists'".
The screenwriter and playwright won an Academy Award last year for The Social Network, about the origins of Facebook.
Jackman's recent solo show, which closed on Broadway earlier this week, grossed more than $14.6m (£9.4m) during its 10-week run.
The Australian-born star will play the lead role in a film version of long-running stage musical Les Miserables, set to begin shooting in March.