White House Alice in Wonderland party under fire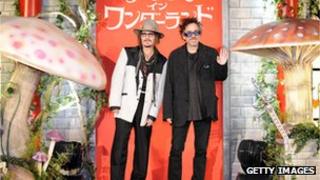 An apparently lavish Alice in Wonderland party at the White House has been criticised in a new book.
The 2009 event saw the State Dining Room redecorated by film director Tim Burton, and was attended by Johnny Depp, President Obama and his wife.
It was described by New York Times correspondent Jodi Kantor in her book, The Obamas.
She says officials kept details under wraps because they were "nervous" about how the party would appear to voters.
After excerpts from the book were published, Britain's Telegraph newspaper described the Alice In Wonderland event as "an embarrassment for a White House that seems not to have heard of the age of austerity".
But a White House official said the party was "no secret".
The Telegraph's Alex Spillius wrote: "Depp greeted guests in the costume he had worn in a film version of the Lewis Carroll story released around the same time by (Tim) Burton - the film's director - who was given carte blanche to transform the state dining room into a Mad Hatter's tea party."
In Kantor's book, The Obamas, she states: "White House officials were so nervous about how a splashy, Hollywood-esque party would look to jobless Americans or their representatives in Congress, who would soon vote on health care, that the event was not discussed publicly and Burton and Depp's contributions went unacknowledged."
She describes a long table at the party as being "set with antique-looking linens, enormous stuffed animals in chairs, and tiered serving plates with treats like bone-shaped meringue cookies".
But White House spokesman Eric Shultz denied Kantor's version of events.
"This was an event for local school children from the Washington DC area and for hundreds of military families.
"If we wanted this event to be a secret, we probably wouldn't have invited the press corps to cover it, release photos of it to Flickr, or post a video from it on the White House website," he said in a statement released to Politico, a political news website.