London 2012: Olympic-inspired art to light up bus stops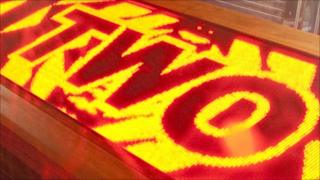 Who wouldn't want a bit of joy and wonder on their daily commute?
Now you can have it thanks to a London 2012 Olympic-inspired project displaying art on the top of bus shelters.
Bus-Tops is a digital art project which has already been launched in London on the top of 30 shelters in 20 boroughs.
It is part of a wider programme of 12 public art commissions being rolled out around the country and in Northern Ireland, Scotland and Wales.
Turner Prize nominated artist Mark Titchner is one of the first to have his work displayed - a series of inspirational commands and motivational challenges such as 'Act or be Acted Upon' and 'If you don't like your life, you can change it'.
Members of the public will also get the chance to have their work displayed, by creating it on the Bus-Tops website and submitting it to curators.
Direct slogans
Mr Titchner's contribution is based on a month-long self-improvement programme. There are 31 slogans which will be changed daily and he said the idea is to have very quick messages which people can carry with them on their journeys.
"They are really direct," he told the BBC. "I'm quite interested in the way language can communicate meaning. In a way the slogans are entirely empty so they need people to actually apply them to their lives to really mean anything."
The project is being funded by the Arts Council England in collaboration with Transport for London (TfL) and there are nine professional artists who will have their work displayed.
The displays are controlled using the internet and curators will change the images based on different routes and at different times of the day.
Members of the public, who can only view the images from the top decks of double decker buses, can log on to the Bus-Tops website from Monday 16 January and find out information behind the art work as well as submitting their own entries.
Passenger complaint
Alfie Dennen, artistic director at Art Public, the organisation behind the project, told the BBC: "I've been getting a lot of emails from people saying: 'What is this this? Is this you? How do I do anything with it?'"
He said the idea behind the project was to challenge conventions in public spaces and inspire bus travellers.
"It was a project we always wanted to do, we knew we wanted to work with bus shelters but we really didn't anticipate getting [the bid]," he added.
But when they did get it, he said he did not have to change the original concept too much to make it Olympic-inspired.
He said: "It's participative, it's collaborative, it's open and it's about London. Those are some of the sub-themes which permeate the Cultural Olympiad. It was very much about celebrating creativity."
But TfL has already had one complaint about the 'Act or be Acted Upon' slogan.
Mr Dennen said: "It was about the content. It's very interesting that someone could feel as though being on a bus and being told to 'Act or be Acted Upon' could be considered alarmist content.
"But that's the kind of initiation to dialogue that we invite, that's pretty awesome actually. However if that person is reading this, I'm sorry if you were offended."
Economy boosting
Commuters seem to be in favour of the idea and in Ealing, west London, they said it was great to be seeing some Olympic projects in the borough.
Francisco Lima said: "It's innovative and different. Whoever does the same route every day can experience something new and discover new talent. It's not a way of advertising and so that's interesting."
Monyen Rivera said: "It's good for sightseeing, tourism and people living in London. It's for the tourists and they bring money in so it's good for the economy. It's really interesting to see new things, especially for the Olympics."
Arnie Scholte said: "Living in Ealing you are remote from [the Olympics]. With things like that it's good to have a reminder. The tops of bus stops are usually covered in rubbish and debris and you don't really see a lot of Olympics stuff here apart from the odd poster."
Public space
The Bus Tops project does not stop there. Mr Dennen says there is a legacy to the concept which will last long after London 2012.
He explained: "There is a physical legacy - TfL want to look at how to use them within the infrastructure. But one of the real legacies is that screens and public space can be mediated by the public.
"When you think about it, all screens in public spaces have a hierarchy of mediation as to how you go from being a person [in the street] to having your work on a screen.
"Normally the paradigm of that hierarchy means you either have to be a producer, you have to have some kind of a background in something and then to be seen in a public space.
"There are all sorts of curtailing that happens around that - it's 'oh no we can't trust you to do that'. So what we will prove with this is that the public are perfectly capable of choosing, creating and mediating the work that gets put on public screens."