Oprah Winfrey parties in Mumbai with Bollywood stars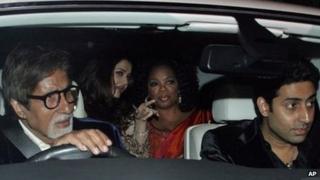 US chat show queen Oprah Winfrey has kicked off her week-long visit to India by partying with Bollywood stars.
Winfrey is on her first visit to the country to film a documentary and is expected to attend the literary festival in Jaipur city.
She arrived in Mumbai on Monday and attended a party held in her honour.
She is expected to visit the city's slums on Tuesday and is also expected to have dinner with a traditional family of four generations.
On Monday evening, Winfrey was seen wearing a red sari as she travelled in a car with Bollywood acting legend Amitabh Bachchan to a glitzy event, hosted by socialite Parmeshwar Godrej.
They were accompanied by actors Abhishek Bachchan and Aishwarya Rai, Mr Bachchan's son and daughter-in-law.
Other actors who attended the party included Shah Rukh Khan, Hrithik Roshan, and Preity Zinta.
Zinta tweeted from the event: "Tonight was dinner at the Godrej House with Oprah Winfrey. Nice to see her wearing a beautiful sari."
Winfrey, who is one of America's most famous women, left one of India's biggest personalities star-struck.
'Seeing it all'
"SRK [Shah Rukh Khan] tells her she is the biggest star in India. Country's A-list queues up for pictures with sari-clad celebrity. O [Oprah] is WOW," writer Shobhaa De posted on her Twitter feed.
Some fans on Twitter suggested Ms Winfrey should see more than just the glamorous side to India and, in one reply, she promised she would be "seeing it all".
Winfrey said she had wanted to visit India for some time: "Never been to India, it's been on my vision board forever."
The television host, who gave up presenting her regular chat show in the US last year to focus on other projects, is due to travel to Jaipur, Delhi, Rishikesh and Agra during her week-long stay.
Reports suggest she may have obtained permission to film at the famous Taj Mahal and may shoot some segments of a new talk show she is working on.
Her planned trip to the Jaipur literary festival has been much anticipated. She is due to attend with author and life-coach Deepak Chopra, who has also flown over from the US.
Her interview with Chopra at Jaipur's City Palace will be broadcast later on her own television channel, the Oprah Winfrey Network (OWN).