Baftas 2012 analysis: Certainties and surprises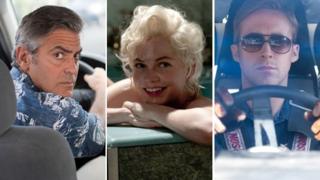 Silent movie The Artist makes itself heard on the Bafta shortlist, while British film Tyrannosaur shows a surprising lack of bite.
As ever, the Bafta nominations mix Hollywood glamour with the cream of British talent.
But this year's frontrunner is a French film - The Artist - with 12 nominations.
The black-and-white silent movie, a homage to Hollywood's "pre-talkie" era, has been talked about as an Oscar favourite for months.
Its dominance on the Bafta shortlist will only help cement its chances of Oscar glory at the end of February.
Its Bafta nods include best film, actor, actress, director, original screenplay, original music and cinematography.
The film-makers, and its Hollywood backer Harvey Weinstein, will be hoping for a similar tally when the Oscar nominations are announced next week.
At Sunday's Golden Globes The Artist took the best comedy/musical prize while The Descendants, starring George Clooney, won best drama.
Both films are up against each other for best film Bafta, but face competition from violent, stylish crime thriller Drive, civil rights drama The Help and cerebral Cold War-era drama Tinker Tailor Soldier Spy.
Tinker Tailor's 11 Bafta nominations are in stark contrast to its complete snub at the Golden Globes.
Gary Oldman is up for best actor for his quietly powerful portrayal of George Smiley, but he has to beat Hollywood heart-throbs George Clooney (The Descendants) and Brad Pitt (Moneyball).
The best actress category sees a "Maggie vs Marilyn" battle as Meryl Streep's performance in The Iron Lady goes up against Michelle Williams' Monroe in My Week With Marilyn.
Both actresses won a Golden Globe, and look set to go head-to-head at the Oscars too.
Streep now has 14 Bafta nominations, but has only won once: for her leading role in The French Lieutenant's Woman in 1981. Could her portrayal of Margaret Thatcher get the winning vote this year?
The Iron Lady missed out in the main film categories. However, Abi Morgan was nominated for best original screenplay, Jim Broadbent is up for best supporting actor and the film gets a nod in the make-up and hair category.
Abi Morgan's other writing project - sex addiction drama Shame - is in the running for outstanding British film, with Michael Fassbender up for best actor.
Were there any surprises on the shortlist?
Steven Spielberg's War Horse failed to canter into either of the main film categories, although it got five nominations including cinematography and original music.
Paddy Considine's Tyrannosaur, a hard-hitting drama that triumphed at the British Independent Film Awards (Bifas) last month - beating Tinker Tailor - earned a single nomination in the outstanding debut category.
It will surprise some that Olivia Colman's best actress win at the Bifas failed to translate into a Bafta nod.
Although it gets only one nomination for original screenplay, Midnight in Paris earns Woody Allen his 23rd Bafta nomination.
He has won 11 trophies to date, the first for directing Annie Hall in 1977 and most recently in 1992 for his screenplay for Husbands and Wives.
The Bafta awards ceremony takes place at the Royal Opera House in London on 12 February.