Goodfellas costume designer Richard Bruno dies aged 87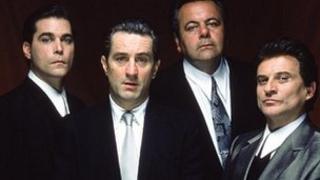 Costume designer Richard Bruno, who won a Bafta in 1990 for his work on Martin Scorsese's Goodfellas, has died aged 87, Variety reports.
During a three-decade career, he worked on more than 50 films including Heaven Can Wait and The Untouchables.
But it was Bruno's work on Scorsese films including Raging Bull and The Color of Money which gained him recognition.
The Costume Designers Guild praised him as a "remarkably gifted designer".
Bruno's Hollywood career began as a costume designer in 1965 for several low-budget movies before working on the 1973 Robert Redford and Barbra Streisand film The Way We Were and 1974's Chinatown, starring Jack Nicholson.
He first teamed up with Scorsese on 1977's New York, New York and went on to work with him for four more films until Goodfellas.
Bruno's designs also proved influential when his deep-collared, steep-pointed shirts that he designed for Goodfellas started a trend in the US.
He retired in the late 1990's, with horror sequel Species II his final film.
"Richard Bruno was a remarkably gifted designer especially in designing costumes for male characters," said Mary Rose, president of the board for the Costume Designers Guild.
"Always a professional, he was well respected by the industry and will be greatly missed by all of us."
He is survived by two daughters.