Simon Schama brands Downton 'cultural necrophilia'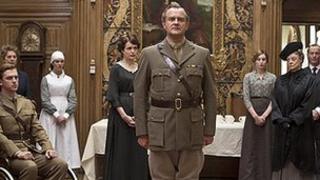 Historian Simon Schama has launched a scathing attack on Downton Abbey, accusing it of improbable storylines and historical inaccuracies.
Criticising the show's popularity in the US, he accused it of "cultural necrophilia" and of pandering to "cliches" about British stately homes.
"Downton serves up a steaming, silvered tureen of snobbery," he wrote in Newsweek magazine.
Creator Julian Fellowes has previously defended the drama against such claims.
Responding to people who accused the show of using anachronistic language and etiquette, he said "the programme is pretty accurate".
"The real problem is with people who are insecure socially, and they think to show how smart they are by picking holes in the programme to promote their own poshness and to show that their knowledge is greater than your knowledge," he added.
Schama, who is professor of history at Columbia University, also blasted the show's stock characters such as stoic butler Carson and Dame Maggie Smith's overbearing matriarch, Violet, Dowager Countess of Grantham.
"The series is fabulously frocked, and acted, and overacted, and hyper-overacted by all the Usual Suspects in keeping with their allotted roles," he wrote.
"All the main plot lines were anticipated a long time ago by Upstairs, Downstairs."
'Not history'
Schama also took Fellowes to task over his portrayal of World War I in the most recent series.
"The abbey's conversion into convalescent quarters did indeed happen in some of the [stately homes]," he wrote.
"But if Fellowes were really interested in the true drama... the story on our TV would be quite different.
"Instead of being an occasional suffragette, [Lady] Sibyl would have turned into a full-on militant.
"[And] Lord Robert, whose income from land and rents would have collapsed with the long agricultural depression, would be unable to service his mortgage."
His criticisms were targeted at the US, where the second series is currently showing.
But the historian's description of the "American craving for the British country house" is reflected in US TV ratings.
Downton Abbey remains the most popular British drama on US TV, regularly attracting more than four million viewers - significantly more than homegrown shows including Mad Men or Game Of Thrones.
It also won a Golden Globe for best miniseries on Sunday night.
Producer Gareth Neame defended the programme, saying it was not intended to be an historical documentary.
"Downton is a fictional drama," he said. "It is not a history programme, but a drama of social satire about a time when relationships, behaviour and hierarchy were very different from those we enjoy today.
"As with any popular TV drama series, [it] offers an alternative to our own life experience."