Rock and Roll Hall of Fame opens archive to public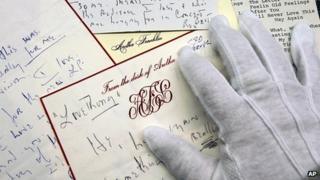 The Rock and Roll Hall of Fame and Museum has opened its new library and archives to the public in Cleveland.
The collection, housed at a new $12m (£7.8m) building, contains more than 3,500 books, 1,400 audio recordings and 270 videos.
Among the items include personal letters from singers Madonna and Aretha Franklin and a 1981-82 video of the Rolling Stones tour.
The museum said thousands more items would be added as they are catalogued.
Visitors will not be allowed to check out items, but anyone can use the library reading room to browse through books, listen to audio recordings and watch videos.
Supervised access will also be given to certain items in a smaller archives reading room.
"We hope to serve music scholars, teachers, students and the general public - we hope to see all of them here,'' Andy Leach, director of the library and archives said.