Claire Danes to get Hasty Pudding Award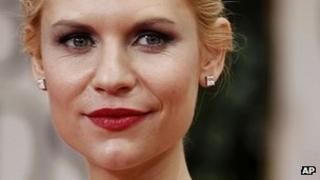 Actress Claire Danes is to be awarded this year's Hasty Pudding Woman of the Year prize.
The 32-year-old will be given the honorary award at a ceremony and parade in Cambridge, Massachusetts, on 26 January.
The prize is handed out annually by Harvard University's Hasty Pudding Theatricals, the oldest undergraduate drama troupe in the US.
Organisers said they were "proud to honour such an accomplished actress".
The group said Danes had "established herself as one of Hollywood's leading actresses throughout a critically acclaimed career that has spanned film, television, and theatre".
The actress first shot to fame in 1994 after starring in US teen drama My So-Called Life.
Her film roles include Little Women, Baz Luhrmann's William Shakespeare's Romeo + Juliet, The Hours, Terminator 3: Rise of the Machines and Stardust.
Golden pudding pot
She currently appears as CIA officer Carrie Mathison in US drama Homeland, for which Danes won the Golden Globe for best actress in a drama series.
It was her third Golden Globe after winning in 1994 for My So-Called Life and again last year for her role as an autistic woman in Temple Grandin, which also earned her an Emmy.
Hasty Pudding winners are given a golden pudding pot, a tradition dating back to 1795 when 21 Harvard students pledged that each member of their new club would provide "a pot of hasty pudding" for every meeting.
Previous Woman of the Year winners include Julianne Moore, Anne Hathaway, Halle Berry and Catherine Zeta Jones.
The Hasty Pudding Man of the Year is due to be announced next week.