Arts Council cash for art bonfire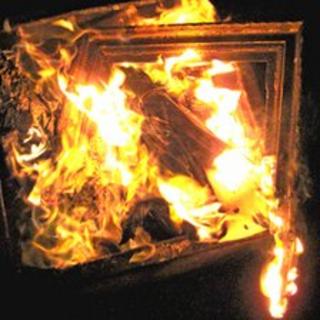 Arts Council England has given £3,000 of National Lottery money to a project allowing artists to burn their work.
The second Manchester Artists' Bonfire tok place on Thursday and saw some 30 artists incinerate their creations.
Organisers said it was "a research project into art and activism" that allowed local artists to collaborate and to discuss art in a direct way.
Arts Council England said the project would support emerging talent and stimulate debate.
The event at Islington Mill in Salford gave participating artists a chance to speak about the reasons for burning their art, whether they were personal or political, before setting it alight.
Organiser Rosanne Robertson said it was "beneficial to supporting artists and discussing art in a new way - in a more direct way with an audience".
Destruction and renewal
The event's website said: "The Artists' Bonfire is unapologetic about the more obvious connotations such as strike, destruction and renewal, but it is also open to new interpretations, be they political or personal or both.
"All viewpoints are encouraged as part of the discussion, including those opposed to burning art.
"We join in a festival of flux and celebrate it on our own terms."
The art-burners will also be given space to test and exhibit new work.
An Arts Council statement said: "Arts Council England is pleased to be supporting the second annual Artists' Bonfire. This event provides an opportunity to celebrate and support some of the north west's emerging artistic talent.
"This project will provide the artists with a free gallery space, enabling them to test and explore new ideas. The event will provide an opportunity for audiences to have a stimulating debate about current affairs and their impact on art and artists."