Vanity Fair picks leading ladies for 2012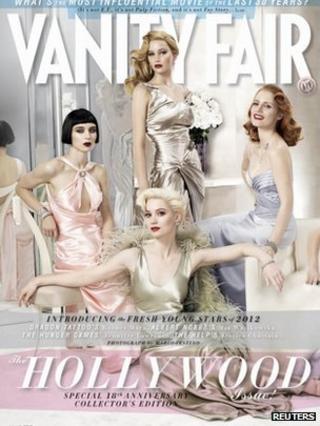 Actresses Jessica Chastain and Rooney Mara have been tipped for success in Vanity Fair's annual Hollywood issue.
The publication began its tradition of selecting the acting industry's next big stars in 1995, when Nicole Kidman, Julianne Moore and Gwyneth Paltrow were among the line-up.
Mara and Chastain are pictured on the front cover alongside Mia Wasikowska, Jennifer Lawrence and seven others.
The art-deco style shoot was captured by photographer Mario Testino.
Features editor Jane Sarkin selected the 11 cover stars, who she thinks are set to become huge in Hollywood.
Elizabeth Olsen, Shailene Woodley, Paula Patton, Adepero Oduye, Brit Marling and British actresses Felicity Jones and Lily Collins - daughter of British musician Phil Collins - complete the list.
Mara has received critical praise for her role as sociopathic cyberpunk Lisbeth Salander in The Girl With The Dragon Tattoo; while Chastain has received an Oscar nomination for her character in civil rights drama The Help.
Lawrence, meanwhile, received an Oscar nomination last year for the harrowing drama Winter's Bone. Wasikowska currently stars alongside Glenn Close in the film Albert Nobbs.
Olsen stole the spotlight from her older, former child-star sisters Mary-Kate and Ashley last year, playing a young woman who escapes an abusive cult in the film Martha Marcy May Marlene.
Shailine Woodley was chosen for her break-out role in The Descendants, for which she received a Golden Globe nomination.
Patten, who was recently seen in Mission: Impossible - Ghost Protocol, was the oldest actress to be chosen, aged 36.
Collins appeared in the comedy drama Suing The Devil, Oduye is best known for Pariah, Marling was last seen in Arbitrage and Jones starred in Like Crazy.
"This group has solid acting cred. Some have already taken on great roles, and I think that all of these girls are on the go-to list for every film currently being cast," Sarkin said.
The annual cover of the March issue has featured stars such as Leonardo DiCaprio, Natalie Portman, Owen Wilson, James Franco, Joaquin Phoenix, Carey Mulligan and Amy Adams.
In some years, it eschews new talent to focus on Oscar nominees - with Kate Winslet gracing the cover four times.
Other recurring stars include Gwyneth Paltrow, Cate Blanchett, Penelope Cruz and Scarlett Johannson.
Sarkin said the cover is viewed by some as a "casting couch" that had previously helped actors raise their profiles.
But the magazine does not always get it right. Terminator 2 actor Edward Furlong, 24's Sarah Wynter and Jonathon Schaech, who starred in Tom Hanks' directorial debut That Thing You Do, are among those whose stars have waned since they appeared on Vanity Fair's front page.