She Stoops To Conquer attracts positive reviews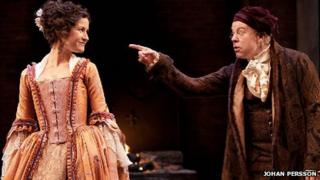 The National Theatre's new production of Oliver Goldsmith comedy She Stoops to Conquer has received mainly positive press reviews after its first night.
Jamie Lloyd's production of the 1773 play stars former Coronation Street star Katherine Kelly as mischievous heroine Kate Hardcastle.
Comic actor Steve Pemberton and Four Weddings and Funeral actress Sophie Thompson play her parents.
The Daily Telegraph praised it as "a great night of high English comedy".
Its critic Charles Spencer described the production as a "fresh, spirited and often blissfully funny staging".
Kelly won praise for her "superb assurance" in the role. However Spencer said Lloyd's version tried "just a little too hard to be lovable".
"I could have done without the chorus line of servants who jolly things along between scenes a touch too vigorously," he wrote.
Giving it three stars out of five, the Daily Mail's Quentin Letts said: "This show has high production values which match Goldsmith's masterly scheming. What it lacks is the soul which would lift it above technical expertise into something more affecting."
But while he said Pemberton's performance was "cheerfully well done", he was less complimentary about Thompson's performance as the socially ambitious Mrs Hardcastle.
"Miss Thompson... overdoes things. Five minutes in, I was loving her performance. An hour later, my smile was tiring. By the end, sorry, she had lost me," he said.
However Veronica Lee of The Arts Desk disagreed, saying the play was "stuffed with great turns" while Thompson "steals every scene, even if her Mrs Hardcastle lacks any real venality".
She added: "Mark Thompson's design and Yvonne Milnes' costumes look lovely, and Jamie Lloyd's spirited production is full of laughs, although sometimes the comedy is pitched a little too high."
The Guardian's Michael Billington also praised "the highly impressive Kelly" and also recognised co-star Cush Jumbo, who plays her genteel cousin, and David Fynn's "peach of a performance" as playboy Tony Lumpkin.
"Although understandably many eyes will be turned to Coronation Street's Katherine Kelly, Jamie Lloyd's production is a collective success," he concluded.