Michael Fassbender wins best actor at Standard film awards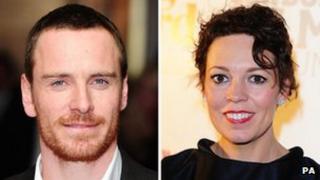 Michael Fassbender has won the best actor prize at the Evening Standard British Film Awards for his roles in sex addiction drama Shame and as Edward Rochester in Jane Eyre.
His win comes less than a week before the Baftas, where Fassbender is up for best actor.
Olivia Colman won the best actress prize for her performance in brutal drama Tyrannosaur.
Lynne Ramsay's We Need To Talk About Kevin won best film.
John Hurt picked up the Alexander Walker special award for his contribution to cinema.
The veteran actor is due to collect the outstanding British contribution to cinema award at the Baftas on Sunday.
Monday's ceremony, at the London Film Museum, was delayed after a fire alarm during the champagne reception meant that all the guests - including John Hurt, Birdsong's Clemence Poesy and Downton Abbey's Jessica Brown-Findlay - were evacuated outside.
Fassbender, however, was not present to collect his prize.
It was accepted on his behalf by Shame writer Abi Morgan who read a message from the actor in which he said he was "truly honoured and delighted" by the honour.
Colman beat three Oscar winners - Vanessa Redgrave, Rachel Weisz and Tilda Swinton - to take the best actress prize for her role as a Christian charity shop worker in Paddy Considine's Tyrannosaur.
Presented with her prize by Doctor Who actor Matt Smith, the tearful actress said: "This film will be the thing I'm most proud of until I die - apart from my husband."
Accepting the prize for We Need To Talk About Kevin, director Lynne Ramsay said she was "pretty overwhelmed".
She admitted: "It was such a struggle making this movie, a lot of times I thought I'd give up."
Her film, based on Lionel Shriver's novel, stars Tilda Swinton as a mother who has a deeply troubled relationship with her son.
Irish comedy The Guard beat summer hit The Inbetweeners Movie to win the Peter Sellers comedy award.
Written and directed by John Michael McDonagh, it features Brendan Gleeson as a foul-mouthed Irish police sergeant.
The award was picked up by actor Mark Strong, who read a suitably irreverent message from McDonagh: "I'm shocked to win the Peter Sellers Prize for comedy - I thought Tyrannosaur would win it."
Hurt's award for his contribution to cinema was presented by My Beautiful Laundrette director Stephen Frears.
Hurt, whose career spans four decades and includes the recent role of Control in Tinker Tailor Soldier Spy, said he was "enormously grateful".
He said the late Evening Standard film critic Alexander Walker, after whom the award is named, had once described him as "the nation's favourite victim".
Hurt added: "Well, I don't feel a victim tonight."
The Evening Standard British film awards have been presented annually since 1973.
THE WINNERS LIST
Best Film - We Need To Talk About Kevin
Best Actor - Michael Fassbender for Shame and Jane Eyre
Best Actress - Olivia Colman for Tyrannosaur
Most Promising Newcomers - Tom Kingsley and Will Sharpe for co-writing and directing Black Pond
Peter Sellers Award For Comedy - The Guard
Best Documentary - Senna
Best Screenplay - Andrew Haigh for Weekend
London Film Museum Award for Technical Achievement - Robbie Ryan for his cinematography of Wuthering Heights
Alexander Walker Special Award - John Hurt for his contribution to cinema
Blockbuster of the Year, People's Choice Award - Harry Potter And The Deathly Hallows: Part 2.