Oscars: Tom Hiddleston on his best picture double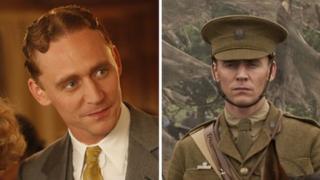 This year's Oscar race for best picture has thrown up several examples where one actor appears in two films on the shortlist.
John Goodman features in both The Artist and Extremely Loud and Incredibly Close. Viola Davis is also in Extremely Loud as well as having a best actress nomination for The Help.
Jessica Chastain is The Help (where she has a best supporting actress nomination) and The Tree of Life, while her Tree co-star Brad Pitt has a best actor nod for sports drama Moneyball.
Alone on the British side is Tom Hiddleston, who plays Captain Nicholls in Steven Spielberg's War Horse and F Scott Fitzgerald in Woody Allen's romantic comedy Midnight in Paris.
"I'm enormously proud of it because I'm a significant part of both those films," Hiddleston told the BBC at the recent Evening Standard film awards. "It was a massive honour to work with Woody and Steven."
Hiddleston spoke of his memories of working on both films.
In War Horse, Hiddleston's Captain Nicholls is the British officer who buys Joey the farm horse at the outbreak of World War I and rides him on the battlefields of France.
"The first thing I think of is that cavalry charge. It was my first day at work. I'd been training with the stunt team for five weeks, the most vigorous physical training in all things equestrian.
"We'd done so many dry runs of the cavalry charge because there could be be no mistakes. If anyone had fallen off in that charge it could have been very dangerous.
"We were stood by the monitor at seven o'clock on a bright August morning in 2010 and Steven Spielberg's inimitable silhouette turned to me and said: 'You good to do this, Tom? Are you ready?'"
Hiddleston added: "Steven Spielberg's name is often associated with some kind of Hollywood factory which just churns out films like plastic chairs, but people forget that Steven Spielberg is the name of human being with a beating heart who has a particular inclination towards particular stories.
"Steven means every frame of that film. War Horse is so imbued with his emotional fingerprint and grace."
'Return to form'
In Midnight in Paris, Hiddleston plays American writer F Scott Fitzgerald, one of the group of musical and literary heroes who Gil Pender (Owen Wilson) meets when he is transported back to 1920s Paris.
"I was on my way to the set on the first day. I was walking down the Rue de Rivoli - which is Paris's Oxford Street - and there were poster prints of Marilyn Monroe and James Dean and other cinema icons.
"Behind James Dean were 10 posters of Woody and behind Woody were a bunch of Ernest Hemingway. Then I walked onto the set and there was Woody Allen, and there was Corey Stoll dressed as Hemingway. I was in my own Midnight in Paris fantasy!"
Hiddleston adds: "It's a big return to form for Woody. It's got his intelligence, his humour, his appreciation of literary history and he captures a side of Paris that hasn't been captured before."
Hiddleston's other recent films include The Deep Blue Sea, Thor and Archipelago.
The London-born actor said he wouldn't be able to attend the Oscars ceremony on 26 February as he is filming a BBC version of Shakespeare's Henry IV, playing Prince Hal.
"I'm due to be in chain-mail on a horse around the time the best picture winner is announced. Work comes first, but prizes are wonderful. Fingers crossed for both of them."
With additional interview material by Rachel Curtis.