Soul Train host Don Cornelius death ruled suicide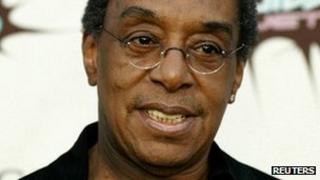 Coroners have ruled Don Cornelius's death was suicide, nearly a week after the Soul Train creator was found with a gun shot wound to his head.
A post mortem was carried out on the 75-year-old on Friday. Toxicology test results are yet to be determined.
Cornelius created Soul Train in 1970 and it went on to become one of the longest-running syndicated shows in history.
Aretha Franklin was among the stars who paid tribute to him.
The singer said he helped boost "unity and brotherhood" with the creation of the hit music programme.
The show, which introduced new dance moves, fashion and hair styles to audiences, was credited with helping to tear down racial barriers.
On Saturday, hundreds of Soul Train fans gathered on New York's Broadway to pay tribute to the star.
Dressed in afro wigs and bell bottom trousers, they carried out a flash dance, recreating a routine that was often used on the programme, in which people would take turns dancing toward a TV camera while showing off their most outrageous moves.
Cornelius's son Tony released a statement last week thanking fans for their support.
"We thank all the well-wishers and the fans who have supported the Soul Train legacy," he said.
Incorporating his father's famous sign-off from the show, he added: "Love, Peace and Soul."