Oscars 2012: Peter Straughan talks Tinker Tailor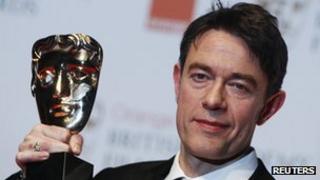 Peter Straughan and Bridget O'Connor turned John Le Carre's classic Cold War novel Tailor Soldier Spy into a Bafta-winning screenplay. Its next mission? The Oscars.
When Peter Straughan picked up the Bafta for best adapted screenplay for Tinker Tailor Soldier Spy, he paid tribute to his late wife and co-writer Bridget O'Connor.
"She wrote all the good bits, I made the coffee."
O'Connor died from cancer in October 2010 before filming began, and the finished film is dedicated to her.
Speaking to Straughan a few days before the Baftas, he modestly plays down his role in the writing partnership. "She'd want to me to say she wrote all the best bits and I did the typing - which is sort of true."
Tinker Tailor was the couple's third project together - after Sixty Six, which starred Helena Bonham Carter, and Mrs Ratcliffe's Revolution.
The spy thriller, directed by Tomas Alfredson, has a cast that includes Gary Oldman, Kathy Burke, Benedict Cumberbatch, Colin Firth, Tom Hardy, Ciaran Hinds, John Hurt and Toby Jones.
At this year's Oscars, Straughan and O'Connor's adapted screenplay is up against up The Descendants, The Ides of March, Hugo and Moneyball.
After Tinker Tailor's snub by the Golden Globes was Straughan surprised by his Oscar nomination, alongside Gary Oldman's best actor nod?
"I didn't know how America would react to Tinker Tailor with it being such a British film, so I wasn't expecting anything to happen with the Golden Globes.
"The Bafta nominations balanced it out, but the Academy nominations were a big surprise. I hoped Gary was going to get one, but I certainly wasn't expecting one for Bridget and myself."
How did the couple work as a creative team? "On the first film we tried sitting side by side and that was a disaster. I remember getting a glass of milk thrown at me at one point!
"So we worked out how to do it: she would first draft one scene and I would draft the next scene in separate rooms and then we'd swap over and talk about structure and planning together."
With Tinker Tailor such a potentially difficult story to adapt, Le Carre urged the couple not to stick to his text.
"We were much much more precious about the book than he was," recalls Straughan. "He had to coax us away from it because we were quite reverential about it.
"We read the book several times, worked out a chart of the basic structure and then we tiptoed away from it over several drafts with his encouragement."
The couple met Le Carre several times in the early stages to discuss the novel, and also to listen to his memories about working in British Intelligence.
It was one such recollection that inspired the film's Christmas party flashback - a scene that never appeared in the book.
"We had no idea that MI5 had Christmas parties!" says Straughan. "John told us about this particular one that had got out of hand, with people throwing bottles out of the window, and the police getting called."
Le Carre himself appeared in the film's Christmas party scene - as a character singing the Soviet anthem.
"He was always there for us," says Straughan of the writing process. "We could check out very small details like what a secret report would look like - what colour the paper would be."
But what perspective did O'Connor bring to the story about the male-dominated world of British Intelligence in the 1970s?
Straughan cites an early scene in the film when Mark Strong's character Jim Prideaux gets shot while on a mission in Hungary.
"There's a moment when a woman suckling a baby gets shot and the baby keeps on feeding. It was Bridget who wrote that. I remember being slightly squeamish about it.
"So she didn't conform to that stereotype of bringing a gentle female quality. She was quite visceral, with a pitch-black sense of humour."
The Oscars take place in Hollywood on 26 February.