Baftas 2012: France takes on Hollywood on British turf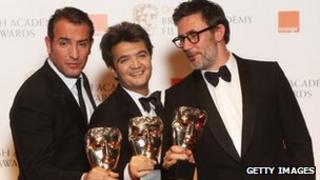 Hollywood turned out in force at the Baftas on Sunday, but it was a French film that dominated Britain's most prestigious film awards.
The loudest screams on the Baftas red carpet were for George Clooney and Brad Pitt. But it was silence that came out on top.
Silent film The Artist had led the Baftas race with 12 nominations. Its seven wins now make it a firm favourite for the Oscars in two weeks' time.
This was the latest stage in an extraordinary journey for the black-and-white film - directed by Michel Hazanavicius - that first made its debut at Cannes last May.
It was there that its star Jean Dujardin won the best actor prize and his canine sidekick Uggie won the jocular 'Palm Dog' award.
Dujardin (along with his translator) has been a regular fixture on red carpets during awards season, often playing up for the cameras.
Backstage at the Baftas, he jokily referred to his director as "Michel Hazana-genius".
On the British front it was a good night for Cold War drama Tinker Tailor Soldier Spy, starring Gary Oldman.
The John le Carre adaptation was named best British film and also took home the adapted screenplay prize.
Oldman had been widely expected to receive the best actor prize. But that went to The Artist's Dujardin, a win that took some by surprise.
There were no surprises in the best actress category though, where Meryl Streep was rewarded for playing Margaret Thatcher in The Iron Lady.
After collecting her Bafta, Streep revealed how playing the former Prime Minister had helped improve her interview technique.
"I learned how to control the interview, which is something I never really could understand how to do," she told reporters.
"But she did it masterfully. She, with a command of her breath and her convictions, would launch into the most amazing sort of labyrinthine argument.
"She would go on to a point where you thought she couldn't go on any further, because she is going to have to take a breath, and still [she would continue] - 'don't interrupt me, don't interrupt me, let me say one more thing!'
"And I thought: that is the secret."
Record breaker
Earlier in the evening Christopher Plummer became the oldest person to win an acting Bafta, beating a record that had been held by Driving Miss Daisy star Jessica Tandy.
The 82-year-old was named best supporting actor for his role in Beginners, as an elderly father who comes out as gay after the death of his wife.
Octavia Spencer beat her co-star in The Help, Jessica Chastain, to win the supporting actress prize.
"I think The Help is resonating with people because it is about regular people, and we can all identify with one of those characters," she told the BBC backstage.
"We always like to root for the underdog, and our film is about that very thing and women finding their voices."
Ignored by the Oscars but rewarded by Bafta was Senna - Asif Kapadia's film about the life and career of Brazilian Formula One champion Ayrton Senna.
The film, which has scooped up prizes throughout the awards season, won both the documentary and editing Baftas.
"We did not want to make a film that was just for F1 fans. It had to become the film that people who can't stand sport go to see," explained Kapadia.
"It had to be about the character, and his charisma. Senna happens to be a driver, but it's actually about his journey in life."
So where does all this leave the Oscars, now less than a fortnight away?
For the last three years, Bafta has picked the film that went on to win best picture at the Academy Awards.
Thomas Langmann, the producer of The Artist, therefore has every reason to be confident when he heads for the Kodak Theatre in Hollywood on 26 February.
Director Martin Scorsese, who picked up the Bafta fellowship and whose film Hugo has 11 Oscar nods to The Artist's 10, admitted it was a film he "admired greatly".
Christopher Plummer and Octavia Spencer are already hot Oscar favourites, while Rango's victory in the Bafta animation category bodes well for an Academy win.
Yet spare a thought for the films that didn't make it to Bafta glory. Despite six nominations there was nothing for My Week with Marilyn.
And there were no awards either for Shame, The Descendants, Drive and We Need to Talk About Kevin, which all walked away from the Royal Opera House in London empty-handed.