Seatwave opens second-hand ticket shop near O2 arena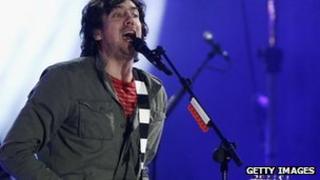 Secondary ticketing website Seatwave has opened its first shop, close to London's O2 arena.
The firm says the store will give fans "last-minute access" to gigs, allowing them to buy and sell unwanted tickets, or pick up tickets bought online.
As with the Seatwave website, sellers will set their own price.
But the O2 distanced itself from the firm and encouraged people "wanting to attend gigs to buy tickets through the official O2 website".
The venue said it did "not allow third party sellers or touts on the premises" and that it policed the Peninsular Square area outside the O2 to stop the practice.
Seatwave's business is entirely legitimate, but the issue of reselling concert tickets is a divisive one, with critics complaining that fans desperate to see their favourite bands often have to pay over-inflated prices.
Bill scrapped
Jon Webster, chief executive of the Music Managers Forum, said the group agreed with "anything that facilitates fans being able to resell tickets in a genuine fashion if they can't go".
"Anything that enables anyone to profiteer with horribly inflated prices is not a good idea," he added.
"Some countries in the world have introduced a 10% cap on resale values, we would like to see something similar, it's just a question of how that is achieved."
Last month, a bill put forward by Labour MP Sharon Hodgson proposing such a cap was scrapped.
Seatwave founder Joe Cohen was among opponents of the bill telling BBC News in May that "if you cap prices anyone who knows economics will tell you you'll create a massive black market and that's what we don't want to go back to".
In a statement released on Friday he said the new shop would give "thousands of fans a convenient way to pick up, buy and sell tickets, ensuring they don't miss out on seeing once-in-a-lifetime events at the O2".