Modern Family star Ty Burrell on the show's success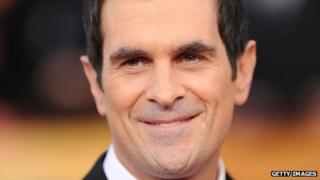 As US comedy Modern Family returns to UK screens this week. One of its stars, Ty Burrell, explains the show's popularity and why the writers could use a break.
Ty Burrell is better known to TV audiences as real estate agent and self-proclaimed "cool dad" Phil Dunphy in Modern Family.
In less than three years since its launch in 2009, it has been nominated for more than 80 awards, winning more than 30 of them. The cream of the crop were a Golden Globe in January for best television series and an Emmy award for outstanding comedy series.
Burrell himself picked up an Emmy for supporting actor. It's almost too good to be true for a show that is less then three years old.
"I think we're all proud to be part of a show that's written so well," says Burrell.
"That said, you still never know if you're going to get an audience."
And Burrell speaks from experience. He previously worked with Modern Family's creators and former Frasier chief executives Christopher Lloyd and Steve Levitan on Back To You, also starring Frasier star Kelsey Grammer.
It was cancelled after just one season.
He continues: "There are have been so many great shows that for one reason or another just don't get a big following.
"I've been in a couple of shows that didn't do well and thought: 'Well, we'll just wait and see.' You kind of leave it up to chance."
In the brutal world of US television, where critically successful award-laden shows can be axed as soon as the audience dips, Burrell says Modern Family's success lies in the quality of the "funny and heartfelt" writing.
Shot in mock documentary-style, Modern Family follows the fortunes of three connected families: a retired businessman and his younger wife and stepson; his daughter, her accident-prone husband and their three children; and the retired businessman's gay son, partner and their adopted daughter.
"Our writers are just amazing, we're almost the end of the season three and they're kind of ready for a break," says Burrell.
"Most sitcoms, they have an A-story and than maybe a B-story, which is slightly smaller in scope, then may a C-story which is kind of peripheral.
"But these men and women have to write three fully formed main plot lines every week, and they're running on fumes at the moment."
Any family-based comedy runs the risk of sacrificing humour for sentimentality, yet Burrell insists the show manages to avoid any major misstep in tone.
"Most comedy writers don't want to take that risk because in the comedy world, in particular, if you miss the mark in terms of the sentimentality of something, then you get savaged," he says.
"It's much easier to be ironic, you can fire a bunch of jokes out, which by the way I do love - those shows which are relentlessly funny - but it's a bigger risk to try to write a love song.
"I don't think we hit it every time, but I love that they endeavour to do it because its a higher stake game."
The show is an ensemble piece, as evidenced by the fact that during awards season the company are all put forward in the supporting categories, yet few would argue that the oft-deluded yet well-meaning Phil is repeat offender in the scene-stealing stakes.
"He is a bull in a china shop but he really does care, he really loves his family. I think he could very easily be mean-spirited, that kind of oblivious quality could be perceived as being pretty mean or callous," says Burrell.
However, as with any long-running comedy which features an ensemble cast, there is always the risk of an actor deciding they've had enough and leaving the show. The results can be mixed.
Medical comedy Scrubs struggled to maintain its momentum on losing Zach Braff, and critics said that Cheers lost the chemistry of Shelley Long and Ted Danson when she was replaced by Kirstie Alley.
The loss of Nicholas Colasanto as Coach Ernie Pantusso, however, provided the show with the talents of Woody Harrelson as Woody Boyd - one of the best-loved characters in US sitcom history.
But would Friends have worked if Joey or Phoebe had quit?
"There are a few different angles on that. I think that as a group we are extremely uniformly grateful for this job so I really don't foresee that happening," says Burrell.
"I do think that over time the show is inevitably going to have to change, but I hope that isn't because of a cast member leaving.
"I do think that at a certain point we are going to have to face some fun challenges with the kids growing up. Touch wood, the show lasts long enough for that to happen."
Modern Family returns to Sky 1 at 2000 GMT on Friday 24 February.