Oscars 2012: Nominees' diary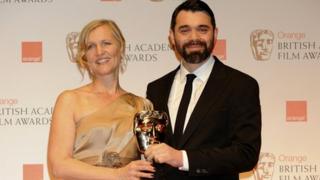 British production A Morning Stroll - about the quirky adventures of a chicken in New York - was beaten to the best animated short film Oscar by US work The Fantastic Flying Books of Mr Morris Lessmore.
A Morning Stroll's director Grant Orchard and producer Sue Goffe, ofStudio AKAin London, walked up the red carpet in Hollywood on Oscars night.
This is Grant Orchard's Oscars diary.
Monday 27 February
Back to Reality.
So we lost. Ho-hum. At least we were in good company.
Very strange these big award nights. Everyone is very excited and tense as they get under way, but with each award given out, the larger the numbers of losers grow. So by the end there's a tangible sense of disappointment filling the theatre.
It is grand - and silly.
The outrageousness of it makes it become an almost out-of-body experience.
You get out of your limo and are herded into a giant tent. We were being security checked alongside Emma Stone and Antonio Banderas; it's like a really glamorous Ikea checkout queue. Then you come out the other side.
Madness.
Banks of people on one side. Banks of photographers the other. It took around 40 minutes to shuffle down it and into the theatre.
The show was good, Billy Crystal's a funny guy and made it all seem light and frothy. Our category was near the end which I thought would be an unbearable wait but I got into the show and enjoyed it. It wasn't the marathon everyone makes it out to be.
In fact it was so diverting that it took me unawares that our category was up and being announced by the Bridesmaids cast.
We didn't win.
Which, even though you know is a long shot, and as every one keeps saying the achievement is getting nominated, the feeling is one of disappointment and an overwhelming sense of exhaustion.
Sue and I have been run off our feet for the whole week, and the atmosphere and anticipation rises all the time until suddenly - flatline. Oh that's it.
I spoke to a few people at the party afterwards and it was a common theme. I think the Americans use the term "bummed out". I'd say "spent".
It's been an utterly brilliant and stupefying week. The Americans know how to put on a show and they also know how to be warm, generous and enthusiastic hosts.
I fly back with my family today. Sue's been very canny (well she is a producer) and is staying an extra week to holiday and relax.
I'm looking forward to coming home - normality has never been so appealing. As Soul II Soul kept sang: "Back to life. Back to reality."
I can't wait.
Saturday 25 February
LA LA Land
I think it will take time to adjust when Sue and I get back to Britain. Our sense of entitlement has been severely skewed since coming out to LA. I'm sure I'll be wondering why no one is taking my picture as I buy a packet of super noodles at my local store. Falling to the ground in a teary fit at the lack of valet parking at Sainsburys.
Both Sue and I received a letter from the PM today, congratulating us on our Oscar nomination. It was casually signed "Dave".
Official recognition continued with our arrival at the British consulate bash for Oscar nominees.
Dame Barbara Hay generously hosted said bash at her palatial LA mansion. She's a lovely, bubbly Scottish woman, who I instantly warmed to (she did remind me of my mum).
We were introduced to MP Jeremy Hunt; sporting a rather shabby cream suit, he delivered a pretty good speech. These politicians can't half turn it on!
More press photographs and interviews. this time we were nudging alongside the press line-up with Gary Oldman - he looked good, very dapper.
It was a quite a starry do including the likes of Kenneth Branagh, Victoria Beckham and Sanjay from Eastenders.
After that we rushed off to the Woman in Film party hosted by the invisible Gwyneth Paltrow.
Then it was off to Soho House for another bash.
Sue and I are both flagging. Luckily, apart from a Dreamworks lunch party tomorrow, we all have a free day to spend with our families who have just arrived.
It's going to be Venice Beach and denial. I'm just not thinking about Sunday, if I do I don't think I'll make it.
We've just experienced the peripheral ripples of the Oscars, and that's massively exhausting and exhilarating, so Lord knows what tomorrow will be like. Eeeeeeeeeeeeeeeeeek!!!!
Friday 24 February
Disney Magic.
There's no denying that being an Oscar nominee opens doors that usually would remain shut.
Sue and I have been invited to the Disney ARL (Animation Research Library) in Greendale.
It's a very low-key building that houses pretty much all of the Disney's past artwork.
Usually only Disney employees can access it. But today it kindly invited all the animation Oscar nominees in.
It is simply incredible.
All of this artwork is kept in humidity controlled vaults and cabinets. We find out that they have 60,000,000 pieces of artwork. Along with being stored, all of this is now being archived. This means scanning and photographing all the work at very high resolutions. It's a slow process. Over two years they've archived 700,000 pieces of art. They estimate that they'll finish the rest in 57 years' time.
It's an unbelievable commitment to conservation. And we can see why - all the pieces they show us are beautiful and immediately bring back nostalgic memories.
It feels that a lot of people have a sense of ownership in Disney films. It's an attachment that usually stems from those early childhood trips to the cinema. A bright vivid burst of colour, movement and emotion that seals shut that memory forever. So when they show Sue and I a recently scanned scene from Lady and the Tramp, it's incredibly moving.
We're then taken to the main Disney studio. Another Q&A and then a lovely lunch with a variety of their directors and producers. They're very generous with their time and show us round the studio. It looks like an incredible place to work.
There's been a lot to do today, but it's also been relaxing in a weird way. It must be that Disney magic.
Thursday 23 February
Coffee and LA car fumes. Yum Yum.
Another early start in sunny Los Angeles.
Sue and I grab a quick bite of breakfast. (Another zany American concoction of bacon, potatoes and peppers. Tasty but a far cry from my usual bowl of Sugar Puffs).
Then it's time for a 7.15 telephone interview with Radio 4, followed by an interview with the LA Times.
We then dash off in Arnie - our rented 4-ton destroyer of an SUV.
We do a quick-filmed interview for Shorts International, who are making a documentary about Short Film nominees at the Oscars.
Arnie then whips us off for a meeting downtown.
An hour later we're again in Arnie - heading to Sony Pictures for a Q&A and tour.
All fun and giggles- then back in Arnie. This time to Fox Studios.
This place is incredible. A really old, classic studio where the likes of Cleopatra, The Seven Year Itch and Planet of the Apes were filmed.
We're doing another Q&A here for Fox employees. It's in a lovely old theatre in the heart of the lot.
I'm getting pretty blase about these sessions now - until I realise that the entire audience is made up of The Simpsons scriptwriters - including Matt Groening!
As comedians are prone to say, this is a tough crowd.
I must admit at that point I dropped a little one in my shorts and cried for mummy.
Whether it was through sympathy for my plight or genuine appreciation the crowd were very warm and complimentary after the show.
Then back to Arnie and Los Angeles traffic.
In the style of open-mouthed plankton, Sue and I are mainly consisting on a diet of coffee and LA car fumes. Thankfully our next stop is a meeting with our publicist over dinner.
Then it's onto a party hosted by the rather marvellous and endlessly energetic Ron Diamond. The man whose been organising all the Q&As we've been attending.
His house is full of animation luminaries. I never realised I was such a fan-boy, but I get uncontrollably giddy when approached by David Silverman (director of The Simpson's Movie) and Andreas Deja (Disney animation legend). Both of whom are lovely.
So the party wraps up and we head back to the hotel to cram in some late night e-mails and preparations for the next day. Disney tomorrow.
Wednesday 22 February
Smile and Nod. Smile and Nod.
We met the other contenders in our category today. Up to now they've been faceless names on a list. Basically there are two beautiful NFB (National Film Board of Canada) films in the mix; a very accomplished American film made by the grand Moonbot Studios; and, finally, there's the new Pixar film to round off what already looked like a strong list of contenders.
Oh and us.
I'm not going to be disingenuous and start painting a picture of us as a small parochial English company, who by some stroke of pluck and good timing has found ourselves competing against these giants of animation. You know, we're not bad. (You have to be to compete against all the other very good commercial animation houses in London).
Anyway, we met the other nominees and they are uniformly lovely. It's amazing how a shared passion in something quickly gels a group.
We then drove over to Paramount Studios. I really can't pretend that was work. What it was was a lot of fun. We drove around crazily in those little golf buggies seeing all the film lots and sound stages.
We then went for lunch with some of the studio heads. Here Sue and I adopted our new technique - the smile and nod. If in doubt, smile and nod. Smile and nod.
I think we pulled it off as we came away clutching lots of business cards and hearty handshakes.
In the evening we had to attend the Academy screening of all the nominated shorts.
I'm not sure what we expected but, typically for LA, it was big. We drove up to the huge Academy building to see queues literally round the block. Both Sue and I each made a golf-ball sized gulp. Upon entrance we were met with what now seems to be the obligatory photo shoot, right next to an 8-foot statue of the Golden man.
The screening went well. An amazing cinema and a really generous audience. We then had to mount the grand red curtained stage afterwards to have a Q&A with Brad Bird (Director of The Iron Giant, The Incredibles, Ratatouille - so pretty much an animation God). Sue didn't think she had to come up. Upon reaching my chair I noticed a spare one next to mine with Sue's name on it. Brad Bird then had to call her individually up to the stage. I think a patina of Paramount starriness had rubbed off on her during our earlier visit- because she made a very Gloria Swanson like entrance. Sue was mortified. I on the other hand thought it was hilarious.
Afterwards we resumed our smile and nod approach.
We're starting to resemble the clapping monkeys at the end of a PG Tips commercial. Well, I am, Sue always looks serene and lovely.
So now we're back at the hotel and we can massage those aching cheek, jaw and neck muscles. Hopefully I'll be able to de-primate myself in time for tomorrow.
Tuesday 21 February
Arnie - you beast!
My god it's true - everything is a lot bigger in LA.
Sue and I landed at LAX airport and managed to get through the rather pleasant, and not as grumpy as we were led to believe, passport control officers.
We went to pick up our rental car, it was supposed to be a mid-range SUV. Instead we were confronted with a steroid-fed yeti of a car. I don't know what make it is but it's massive! I've no idea how much fuel it will consume, it makes me feel bad, but at least I've been cycling round London for the last nine years so that might offset the amount of fuel it took to drive out of the forecourt.
We managed to get lost driving to our hotel. It got dark and we couldn't really find out how to turn on the lights. Hence we got beeped a lot. Which, in our muscle-bound behemoth of a vehicle (which we have nicknamed Arnie) you'd think would have rendered us impervious to intimidation. Hell no! We're small fry. We're mama bear and there are lots of papa bears out there that waiting to squish us with one fat tyre. I'm talking actual monster trucks.
Eventually we found our hotel, which thankfully is lovely and discreet.
A reasonable night's sleep and a gargantuan breakfast of ingredients that you would never dream of putting together at home - pancakes, maple syrup, orange, egg and bacon - has been wolfed down and now we're ready to start our Oscar week in earnest. First stop - Paramount Studios.
Monday 20 February
Eleven hours and no internet connection
No emails or telephone calls for a whole day. Bliss. For the past month it's been like a long game of Tetris - desperately trying to clear blocks of work and demands before more descend.
We're currently sitting on a Virgin Airbus with 11 hours of hard flying to do before we settle down in LA baby!!! (That's the way you have to say Los Angeles - with baby attached to the end and three, count them, three exclamation marks!!!)
Virgin Mary in hand - give me an hour and I'll be graduating to a Bloody Mary. Don't want to overdo it because we have a pretty packed schedule when we land.
We have Q&As everyday (one with animation hero Brad Bird), several Hollywood meetings, interviews, and on Friday we've been invited to three events:
The British Consulate for drinks with the other UK nominees, a pre-Oscar bash hosted by Shorts International, and Sue's been asked to attend a Women in Film party hosted by maximum multi-tasker Gwyneth Paltrow. We've said yes to everything.
So time to relax. In-flight entertainment is brilliant. I've got the choice of 64 films. My to-do list is - Moneyball, Bridesmaids, Drive, Tinker Tailor Soldier Spy and an episode of Game of Thrones. Hang sleep.
Sunday 19 February
The Oscars aren't glamorous - they're snuggly
Last night of packing before we set off to LA. Gulp. I think I've managed to pack for every occasion. Although I'm not too sure what the weather is going to be like, so therefore can't decide whether to take the gift I gratefully received from the Oscar Academy this week.
Sue and I received a large package with a Golden Man emblazoned on the front. Maybe the first of many perks and freebies attached to this rather grand shindig. Maybe a pre-cursor, a wee sampler of the much whispered and mysterious Oscar party bag?
Everyone seems to have an opinion on what the Oscar party bag might contain. My mum believes it to be a glittering series of rooms, like an Aladdin's Cave in a Hilton hotel, stuffed to the gills with gold, diamonds and attractive scents - where you can breeze in and fill your boots (as long as you have your photograph taken with said merchandise).
I'm not sure about that.
Someone else has mentioned that it's a very fine bag with riches worth $60,000! Again - not sure.
My wife believes it's true though, and she is wise my missus. Although she also believes that there's a two-tier system where the $60,000 party bags go to the mega-celebs, while the rest get a bag that's more akin to the ones that get handed out at the end of a kids' party - a few sweets, a plastic toy and a slice of Oscar cake wrapped in a serviette.
Well I don't know. All I do know is that I'm now in possession of a very fine, Oscar nominee hoodie. It's black, and on its breast is stitched the statuette with "Nominee" written underneath. It reminds me of Jodie Foster's FBI tracksuit top at the start of Silence of the Lambs.
It's not glamorous, but it is very warm and snuggly.
Saturday 18 February
Laughter at the Baftas
It's been a week since Sue and I won our Bafta for best short animated film at this year's rather glamorous British Academy Film Awards (woo-hoo!), and it's now only a few days till we fly off to sunny LA for what might be an even snazzier do at the Oscars.
That's hard to imagine though, because on Sunday Bafta put on a pretty fine display of starriness and sophistication.
Admittedly I'm not used to such richness and finery. It was my first time at the awards and both my wife and I took it in turns to viciously nudge each other in an effort to point out yet another shimmering celeb.
It's all rather nerve-wracking, but fortunately Bafta saw fit to put our category quite early on in the ceremony.
Sue asked me whether I would hold her hand to go up if we won.
This I did, but due to my keenness to get my thank you speech over with I literally dragged her, like a horny caveman, up to the stage.
When you've been escorted off the stage, desperately clutching your bronze Bafta head, you're led through a couple of corridors into the press room - which is not really a room, more of a sports hall with lots of studio lights and people dressed in black.
At that point Sue and I were asked to mount a well-lit podium and have our photograph taken.
No problem, until I turned around and saw a bank of 30-odd photographers facing us.
If someone had mentioned this was the price of winning I would have run a mile. I'm an anaemic animator who leads a monastic life of desk-bound servitude to my craft; this is not my bag.
Yet I loved it! Our celebrity award givers, Joseph Mawle and the delicate porcelain perfection that is young starlet Holliday Grainger, stood next to us.
I rather uncouthly grabbed her round the waist and then really juiced it up for the cameras. I don't know what came over me. I don't think I was quite myself.
Sue and I were then taken back to our seats, which is quite a long journey through the bowels of the Royal Opera House.
En route we asked for a loo break and found ourselves outside a disabled toilet queuing with Anil Kapoor, Chris O'Dowd and Kristin Wiig.
What a line-up! Sue had her Bafta in both her hands (they're very heavy) and asked where mine was.
Like a prize dolt I'd left mine in the press room. Not my finest moment - running like a hairy Forrest Gump through the labyrinthine passageways crying: "My Bafta. My Baft-aar."
A side note, but one that made the night even more special for me, was that the football team I've been playing for for years had two other nominees at the Baftas - Asif Kapadia (Senna) and John Maclean (Pitch Black Heist). Both of whom won.
During the post-awards interviews Zoe Ball referred to my football team [Green Park Rangers] as "a mighty, mighty football team".
Which as a quote we're very pleased with and might have blazoned on our football shirts. But as John also pointed out, we've probably got more Baftas than goals this season.
So now, after Sunday's celebrations and a week of work, both Sue and I are knackered.
We have had to prepare for Monday's flights, and there's a rather intimidating Oscar itinerary waiting for us when we land. Hopefully we'll get some rest on the flight over.
The Academy Awards take place in Los Angeles on 26 February.