Robert Pattinson makes Berlin premiere with Bel Ami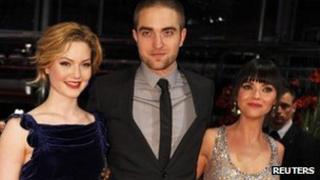 Twilight actor Robert Pattinson walked the red carpet in Berlin on Friday at the premiere of period drama Bel Ami.
The 25-year-old was joined by co-stars Christina Ricci and Holliday Grainger at the event, one of the last major screenings of the Berlin Film Festival.
Competition entry Barbara is tipped to become the first German film since 2004 to win the prestigious Golden Bear.
Last year's winner, Iranian drama A Separation, has gone on to be nominated for this year's foreign film Oscar.
Bel Ami, which is screening out of competition, is based on the Guy de Maupassant novel and is directed by Britain's Declan Donnellan and Nick Ormerod.
It tells of a young man, played by Pattinson, who uses his wits and powers of seduction to rise from poverty to wealth in 1890s Paris.
Speaking ahead of Friday's screening, the British star told reporters he hoped his Twilight fans would be receptive to his latest venture.
"The biggest disservice you can do to your audience is trying to repeat the same thing and get them to come just to get money or whatever," he said.
"But if people are interested in what you are doing, then if you try and do interesting films on interesting subjects, then I think it's great."
Bel Ami is out in the UK on 9 March. The final Twilight film, Breaking Dawn Part 2, will be released on 16 November.
Meryl Streep, Angelina Jolie and Billy Bob Thornton are among the stars who have braved the chilly Berlin weather at this year's festival.
Keanu Reeves, Salma Hayek, Antonio Banderas and Javier Bardem have also been in attendance.
From a film standpoint, few titles have generated as much attention as the celebrities in town to promote them.
The notable exception is Barbara, Christian Petzold's film about a woman in the former East Germany who is banished to the provinces during the Cold War years.
British film-maker Mike Leigh is president of this year's competition jury, which also includes US actor Jake Gyllenhaal and Asghar Farhadi, director of A Separation.