China eases foreign film restrictions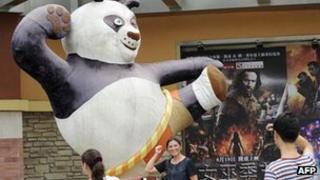 China has agreed to ease restrictions on the number of foreign films shown there, and to increase the amount film studios can make from ticket sales.
A quota of 20 foreign movies, which are mostly US exports, remains. A further 14 Imax or 3D films will be allowed.
The Motion Picture Association of America said the "landmark" deal - brokered with the US - would allow 50% more Hollywood films into China.
Chinese box office receipts topped $2bn (£1.26bn) last year, US officials said.
As part of the agreement, the amount of revenue foreign movies are allowed to collect from movies distributed in China will be increased from about 13% to 25% of ticket revenue.
Announcing the deal at the end of last week's visit of Chinese Vice-President Xi Jinping, US Vice-President Joe Biden said it would "make it easier than ever before for US studios and independent film-makers to reach the fast-growing Chinese audience".
He said the move would support "thousands of American jobs in and around the film industry".
"At the same time, Chinese audiences will have access to more of the finest films made anywhere in the world," he added.
The US movie industry has long complained that the limit fuelled demand for pirated copies of films, which are widely available in China.
In December 2009, the World Trade Organization ruled that China should allow more imported films to be released in cinemas but little had changed before Friday's announcement.
"By promoting the growth of a legitimate marketplace for US movies in China, this agreement will also complement efforts to fight movie piracy and help protect the jobs of workers in both countries, whose livelihoods are dependent on a healthy entertainment industry," MPAA president Chris Dodd said.
According to tracking firm Artisan Gateway, China had 10,500 cinema screens by the end of 2011. It said the figure could top 13,000 by the end of this year.
By comparison, the US has 40,000 cinema screens.
During Mr Xi's visit to California, US film giant DreamWorks Animation announced a $330m (£210m) joint venture with China.
Oriental DreamWorks will give the company further access to Chinese cinema-goers who have fallen in love with films including the studio's Kung Fu Panda 2.