Brits 2012: Artists in awe of Adele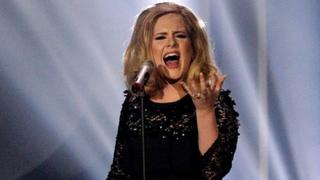 After a stellar year, the 2012 Brits ceremony was always going to be dominated by Adele. After the show, the star, her team and her famous fans reflected on what went right.
"I'm over the moon," said Adele shortly after picking up the Brit award for best British album. "This is so important to me."
The 23-year-old has good reason to be happy.
Since her second album, 21, was released in January 2011, it has sold a copy every seven seconds in the UK. Worldwide, the figure is every two seconds.
"I can't imagine how many people that is," she said. "It just goes over my head. But it's phenomenal, the success of this album, where it's gone, where it's taken me.
"And it seems like it's done it all on its own, as well. I haven't done that much, and then I was halted by my voice problems - but the record just carried on, carried on walking without me."
17m

albums sold worldwide

20

weeks at number one


in the UK album chart

8

Grammy awards

£11m

estimated income in 2011

6,988

songs played on UK radio in the last 30 days

3

Brit awards

Sources: Billboard, Official Chart Company, Compare My Radio, Brit Awards, Grammy.com, Forbes
The singer's global success has been generated by a break-up album that runs through all five stages of grief, from the fist-thumping fury of Rolling In The Deep to the agonised acceptance of Someone Like You.
It's underpinned by that voice - a powerhouse of sheer conviction that rips up the ground like a hurricane.
And, aside from the Dublin music shop that banned customers from playing her songs, it seems everyone loves Adele.
On the Brits red carpet, where jockeying for position is normally second nature, the great and the good of the music industry lined up to sing her praises.
"She's phenomenal," said Kylie Minogue. "We are all fans of Adele."
"She's talented, she's beautiful, she's human. She has something that touches all of us."
Dizzee Rascal added: "She's a genuine artist. When you watch her live on stage and hear her, she's the real deal."
The question no-one could answer, however, is why Adele's record in particular became such a global phenomenon.
Alex James, who was at the Brits to pick up Blur's lifetime achievement award, acknowledged: "It's quite mysterious.
"Success is either impossible or it's a piece of cake. That's why people who become incredibly successful in bands go mad - because it's like falling in love, it either happens or it doesn't.
"Record companies can't tell what's going to work. I think Adele surprised everybody, even herself. But she's brilliant. I'm proud of her."
Rapper Tinie Tempah, who has asked Adele to appear on his new album, said her success sent a message to the music industry.
"In the modern day, when loads of people have given up on music and given up on the state of the charts... for somebody to come around and do something so massive is incredible," he said.
Undoubtedly record companies are, at this very moment, signing dozens of broken-hearted soul singers to try to replicate Adele's success. But, for Paloma Faith, Adele is a one-off.
"The public can smell when things are not genuine. Adele is wholeheartedly herself," she said. "That's the key to real art - honesty."
'Genius' songwriter
Those who know Adele agree that she is largely unaffected by fame.
Backing singer, Kelli-Leigh Henry-Davila, has watched the star develop over the last year, having joined her band a month before 21 was released.
"I started with her at the Royal Variety Performance," she told the BBC, "and she was a little bit more held back. She'd sing, but she wouldn't move around much.
"Towards the end of the tour, she was walking across the stage and going out to the audience. It's quite phenomenal to see that development.
"And then she's just like: 'Y'alright? Would you like a cup of tea?' She's so homely and very humble, there's no big showy diva thing."
Dan Wilson wrote Someone Like You with Adele and described her as "a genius".
But the Minneapolis musician, who once fronted rock band Semisonic, noted the singer is also down-to-earth, "spontaneous and tells good stories".
Speaking to American Songwriter about the sessions for Someone Like You, he also revealed how much she relied on her family for support.
"By the end of the first day the demo was sounding lovely, and very affecting, but it was only half-written," he says.
"Adele came to the studio the next day and said, 'I played it for my manager and me Mum'. I was a little nervous about this because I don't like people to hear works-in-progress. I asked her what they thought of the song. 'My manager loves it and me Mum cried.'"
It was the live performance of that song at last year's Brits that really sent Adele's career into the stratosphere.
Immediately after the show, the song leapt from number 47 in the singles chart to number one, where it remained for four weeks (plus a further week later in the year).
This year's Brits appearance may not quite have the same effect. Even though, statistically-speaking, 120 people will have bought an Adele record while you've read this article, sales of 21 will tail off over time.
This raises the question of what comes next?
Adele wrote on her blog last week that she was heading into the recording studio immediately after the Brits.
This could mean new material, or the collaboration with Tinie Tempah, or even work on the much-rumoured Bond theme.
Her manager, however, says the star is still taking things one step at a time after surgery on her vocal cords last November.
"We have to ease her back," Jonathan Dickins told Billboard magazine, indicating that tour plans were still on hold.
"Like any injury, you need to build your strength back up. I'm mindful of that. I'm gonna let her enjoy this moment and not drive her mad."
But speaking to the BBC, the star's throat surgeon, Dr Steve Zeitels, said Adele's vocal cords were already fully recovered.
"Once you rectify it, it's like you have a new slate, so I don't expect there to be any problems in the future."
Whatever happens next career-wise, Adele had only one thing on her mind as she was swept away from the Brits' backstage area.
"I'm off to a party right now," she laughed raucously. "But no drink, I'm not allowed.
"Have a lovely night!"