Cheryl Cole and Justin Bieber join Will.i.am album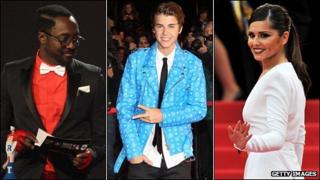 Black Eyed Peas' Will.i.am says his new album will contain duets with Cheryl Cole, Alicia Keys and Justin Bieber.
The rapper said he was "really excited" about the record, which will have cameos from "a whole bunch of other folks", including dance act LMFAO.
Called #WillPower, the record has already produced a hit single, The Hardest Ever, featuring Mick Jagger.
Will.i.am was speaking at the Brits, where Tinie Tempah and Dizzee Rascal also announced new albums.
Tinie Tempah - winner of best single and breakthrough at last year's Brits - revealed the follow-up to his debut, Disc-Overy would be called Demonstration.
He told Radio 1's Newsbeat that the album would reflect current news events like the Arab Spring and the Occupy movement.
"Demonstration covers a lot of the things that have been going on around the world, especially in London," said the 23-year-old.
"I want to be in correlation with such an incredible time in the world's history."
Dizzee Rascal also said his first album since 2009's Tongue N' Cheek would be ready "by the summer".
"It's all sounding pretty upbeat, stuff for the festivals, for the clubs, a bit of radio stuff," he told the BBC.
"Tonight's my night off - but it's about halfway done."
X Factor winners Little Mix were also taking a break from the recording studio.
The band, who won high praise for their cover of En Vogue's Don't Let Go (Love), said they had hired that song's writer Andrea Martin to pen original material for their debut album.
"She came all the way over here to see us," said singer Jesy Nelson. "The sound is a mix-up of pop, R&B and hip-hop. Something completely different that, hopefully, hasn't been done before. That's what we're aiming for."
The band also mentioned that, in a break with X Factor tradition, their first single from the new album would be released "in May or June" - rather than waiting until the reality show returns.
Eccentric pop star Paloma Faith was yet another act to spill the beans about her new record.
"It's nearly finished. I've got two weeks left. That's when I put all the icing and cherries on top."
"I'm really proud of it so far. I wasn't as proud of what I did last time because I was learning as I went along. But I can honestly say that I stand wholeheartedly, 100% behind the new record."
Asked why she'd broken off recording sessions to attend the Brits, the star replied: "I think I'm going to butter up some radio people!"
One person, however, who admitted delays to their recording output was Noel Gallagher.
Last year, the former Oasis guitarist announced he would release two albums in the space of a year. The first, Noel Gallagher's High Flying Birds, earned him a Brit nomination for best male artist after it came out in October.
The follow-up, a psychedelic collaboration with dance artists Amorphous Androgynous, has yet to appear.
"It's come to a grinding halt," Gallagher admitted to BBC 6 Music. "It was supposed to be finished six months ago and it's still not finished.
"It's a record that relies solely on the mixes, and the mixes don't sound great.
"I've got to be there when it's mixed, but I can't do anything until my tour finishes," he added.