Harvey Weinstein threatens MPAA boycott over R rating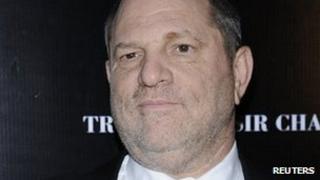 Movie mogul Harvey Weinstein has threatened to pull out of the Motion Picture Association of America (MPAA) over a film rating given to the documentary Bully.
The R rating means children under the age of 17 will not be able to watch the film, about bullying in US schools, without a parent present.
In a statement, Weinstein called the rating decision "a bridge too far".
The film, directed by Lee Hirsch, is due for release in the US on 30 March.
Weinstein and Alex Libby, one of the students featured in Bully, had appealed against the rating, asking for a PG-13 - which warns parents that some material may be unsuitable for children under the age of 13.
However, they lost the appeal to reverse the decision by one vote.
"I have been through many of these appeals, but this one vote loss is a huge blow to me personally," said Weinstein.
"Alex Libby gave an impassioned plea and eloquently defended the need for kids to be able to see this movie on their own, not with their parents, because that is the only way to truly make a change."
Weinstein, whose production company is behind Sunday's Oscar favourite The Artist, added the documentary addressed "a crucial issue".
He said he intended to ask personalities worldwide including Lady Gaga and the Duchess of Cambridge "to take a stand with me in eradicating bullying and getting the youth into see this movie without restriction".
He said The Weinstein Company "is considering a leave of absence from the MPAA for the foreseeable future".
However, as The Weinstein Company is not an official member of the MPAA, it is unclear what form a boycott would take.
Bully premiered at the Tribeca Film Festival in New York last year and follows students and families in Texas, Mississippi, Georgia, Iowa and Oklahoma.
It also touches on the suicides of two bullied teenagers Tyler Long and Ty Smalley.
In a statement, MPAA appeal board chairman Joan Graves said the rating was not a comment on the film's subject matter but was imposed for "some language".
"Bullying is a serious issue and is a subject that parents should discuss with their children," she said.
"The MPAA agrees with the Weinstein Company that Bully can serve as a vehicle for such important discussions.
"The MPAA also has the responsibility, however, to acknowledge and represent the strong feedback from parents throughout the country who want to be informed about content in movies, including language."