Companies reduce arts donations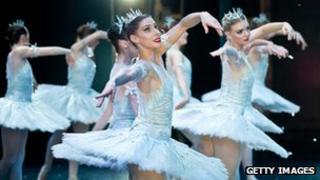 Investment by businesses in the arts has dropped to its lowest level for seven years, despite a government drive to encourage philanthropy.
Companies gave £134m in the financial year 2010/11, according to Arts and Business, which compiled the figures.
That is £10m down on the previous year and the lowest since 2003/4.
But overall investment in the arts, including money from private donors and trusts and foundations, rose by £28.5m to £686m, Arts and Business said.
The charity, which aims to connect cultural organisations with donors, said individuals gave £382m in 2010/11, up £23m on the previous year.
Investment from trusts and foundations rose from £155m to £170m.
The government has launched a major drive to increase private funding for the arts and 2011 was billed as the "year of corporate giving".
Speaking to BBC Radio 4's Today programme, culture secretary Jeremy Hunt said the overall rise in philanthropy had been a success.
"I don't regret for one second the effort [arts minister] Ed Vaizey and myself have put into boosting business support for the arts," he added.
"I think it would have fallen a lot further if we hadn't put in the effort that we have."
According to shadow culture minister Dan Jarvis, though, the figures paint a different picture.
"The government promised that cuts in public funding for the arts would be replaced by philanthropists generous donations, across the country," he said. "We can see that this simply hasn't happened.
"Whilst private giving has increased by £28.5m in 2011, the public funding to Arts Council England was cut by £71m. This is deeply worrying for the long-term sustainability of the arts sector."
Jonathan Moulds, Bank of America Merrill Lynch's Europe president and chair of the Arts and Business leadership campaign, said increased awareness was needed to persuade businesses that the arts could benefit communities and the companies themselves.
Arts institutions in London benefited most in the last financial year. The capital received 71% of all private money, up from 68% in 2009/10.
Donations also rose in Scotland, with south-west England and south-east England (excluding London) the main losers.
Heritage attractions saw their funds increase by £36m to £246m in 2010/11, while money to museums went up from £95m to £109m.
But money for the visual arts dropped from £85m to £73m, and donations to community arts went down from £21m to £15m.