Can White Heat emulate success of Our Friends?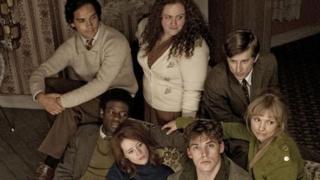 Can BBC Two's new drama White Heat, which follows a series of friends over five decades, emulate the success of the channel's classic Our Friends in the North?
Comparisons between the new saga and its hugely successful predecessor are inevitable.
Seven-parter White Heat charts the relationships, over 47 years, of seven friends who meet in London.
Peter Flannery's nine-part Our Friends in the North follows Geordie, Nicky, Mary and Tosker, from Newcastle, over 31 years.
"I think what Our Friends in the North proved is that the audience has a fantastic appetite for an epic novel, if you like, told over episodes over a period of time," says White Heat's Bafta-winning creator and writer Paula Milne.
"And that's an inspiration - without question. But I have to say that, as a woman, it didn't have a lot to do with me."
White Heat's female lead Charlotte, played by Claire Foy, is an "intuitive feminist" from a suburban background who becomes outspokenly political at university and falls for rebellious MP's son Jack (Sam Claflin).
Milne, whose successes include Channel 4's The Politician's Wife, starring Trevor Eve and Juliet Stevenson, says her "experience of some of the periods that Peter Flannery wrote about was quite different".
"With my choices of the years [in White Heat] - the Falklands, Greenham Common, the rise of Thatcher - I wanted some things that I experienced and witnessed and how we all responded to them."
While Milne may not be completely comfortable with Our Friends in the North comparisons, she would no doubt be happy if her labour of love went on to occupy a similar place in TV history.
Flannery's masterpiece began life as a Royal Shakespeare Company stage play in 1982 and, thanks in part to the politics of TV commissioning, took 14 years to transfer to the small screen.
Flannery, who is now working on his BBC adaptations of Alan Hunter's George Gently crime novels, began writing it in his 20s and finished at 44.
"I've grown up with the script and the characters have grown up as I have and their concerns are my concerns, just as they were when I was 29," he told the Guardian ahead of the production's launch in January 1996.
The show, which had a massive £8m budget, regularly appears on critics' lists of the greatest British TV shows.
And its trio of male stars, Daniel Craig, Christopher Eccleston and Mark Strong had a future James Bond, a future Doctor Who and a film star among their number, while Gina McKee won the Bafta for her turn as Mary.
'Acting chops'
Our Friends in the North producer Charles Pattinson says one of the biggest decisions faced by it makers was "what age do you cast"?
"We could justifiably have split it in the middle and have two sets of actors but we didn't want to do that so we cast broadly at the young end of the spectrum - I think Daniel Craig and Mark Strong were in their early to mid-20s," he told the BBC News website.
He adds: "I think for a 20-year-old actor to play 40, to play a parent, is a big leap of the imagination and that was where the real acting chops came in."
While White Heat has a second, older cast playing characters in the present - including Milne's long-time collaborator Juliet Stevenson - its young actors are still required to portray characters from the ages of 18 up to their 40s.
Sam Claflin, 25, and Claire Foy, 27, say they were given a head start by the show's hair, make-up and wardrobe specialists.
The dashing Claflin, a star of last year's Pirates of the Caribbean: On Stranger Tides, says: "I was super happy because, with Jack, not only his personality and his character but his look changed. He was a trendsetter of each era."
Foy, meanwhile, who is currently appearing in BBC One's Upstairs Downstairs revival, says: "The make-up and costume was extraordinary so we didn't really have to do anything."
Christopher Eccleston has been less complimentary about the ageing process for Our Friends in the North, famously citing "dodgy wigs and bad beards".
Producer Pattinson agrees it was "probably the least successful area" of the production.
"I think the world of prosthetics has moved on considerably since we made Our Friends in the North and I don't think we were at our very best even then.
"I think it was a shame but do I think ultimately it mattered? No, because I think on the whole people are looking at character and performance and drama and story.
"It captured the zeitgeist, it captured the mood, I think, and there was the notion it was the right time to look over that bit of history."
Like White Heat, he says Our Friends was "a very brave commission" by BBC Two.
"It had ambition and fortunately the ambition paid off and I think people recognise that."
White Heat will appear on BBC One at 2100 GMT on Thursday 8 March.