The Best Exotic Marigold Hotel tops UK box office chart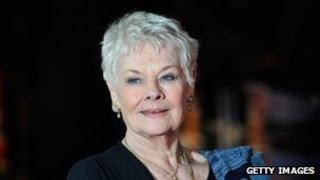 Comedy drama The Best Exotic Marigold Hotel has reached the top of the UK box office, making £2.4m in its second week of release.
The Woman in Black, starring Daniel Radcliffe, slipped into second place, with £1.9m.
Marigold Hotel features a stellar cast including Dame Judi Dench.
The movie, about a group of pensioners who travel to India, has big appeal for an older audience, often ill-served by the film industry.
Tom Wilkinson, Bill Nighy, Penelope Wilton, Celia Imrie, Dame Maggie Smith, Ronald Pickup and Slumdog Millionaire actor Dev Patel also star in the John Madden film.
The Woman in Black, an adaptation of Susan Hill's ghost story which is also a West End stage hit, has made £17.6m at the UK box office to date.
This Means War was the highest new entry on the chart at number three.
The action comedy, about two spies who fall in love with the same woman, made £1.9m.
The film was directed by Terminator's McG.
Thriller Safe House fell one place to four with £1.4m, while Disney's The Muppets also dropped back one place to five.