John Carter falters at US box office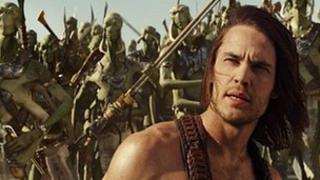 Disney's science fiction film John Carter has taken $30.6m (£19.6m) at the US box office, falling far behind its reported budget of $250m (£160m).
The Mars-based epic, based on Edgar Rice Burroughs' galactic adventurer, came second to Dr Seuss adaptation The Lorax, which took $39.1m (£25m).
Starring Taylor Kitsch, John Carter has been panned by critics, who called it "boring", "old hat" and "chaotic".
But it performed well at the global box office, taking $70.6m ($45.2m).
The total receipts of $101.2m (£64.8m) suggest the film will eventually break even, but it has fallen short of expectations in an era when blockbuster action movies can break the $1bn (£640m) mark.
"We would have hoped for more considering the larger economics of the film," said Dave Hollis, Disney's head of distribution.
He added the company was "encouraged with how it's been received by audiences that have seen it and hope to see that generate positive word of mouth for the balance of the run".
Movie review website Rotten Tomatoes suggested that audiences were more positive than critics about the movie, with 72% of their users saying they liked the film.
Elsewhere in the US film charts, teen comedy Project X took third place with $11.6m (£7.4m).
Elizabeth Olsen's horror tale Silent House came fourth with $7.01m (£4.5m), but it was barely ahead of Act Of Valor, an action film that stars real-life US Navy Seals, which took $7m (£4.4m).
Eddie Murphy scored a new entry at number six with A Thousand Words, a film shot four years ago about a fast-talking literary agent who discovers he has only a thousand words left to utter before he dies.
Suffering even worse reviews than John Carter, it is expected to drop out of the charts altogether next week.
The surprise success of the weekend was British film Salmon Fishing In The Yemen.
The drama, about a scientist and a consultant on a mission to bring fly-fishing to the Middle East, opened in just 18 cinemas, but took $240,000 (£153,547) - an average of $13,333 (£8,531) per screen.
It suggests that the film, which stars Ewan McGregor and Emily Blunt, could go on to achieve bigger success as it reaches more theatres.