André Previn: Composer and conductor remembered as 'a musical giant'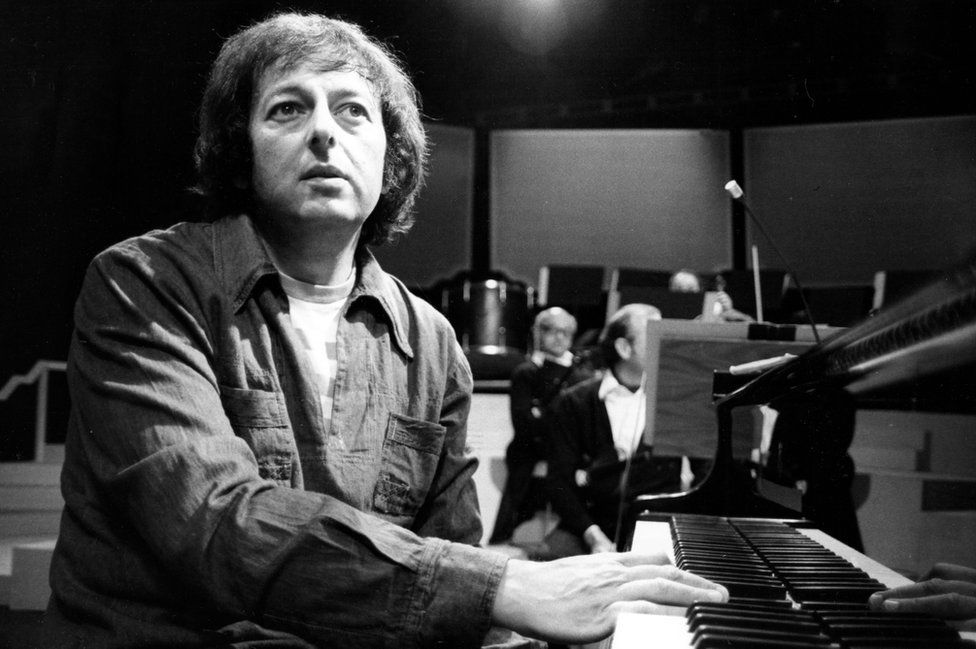 Conductor and composer André Previn has been remembered as "a musical giant", "an incomparable talent" and "one of a kind" following his death on Thursday.
The musician, whose career spanned film scores, classical and jazz, was 89.
Conductor Leonard Slatkin said: "Versatile, witty and brilliant, he will be remembered as an outstanding musician who touched so many people."
Ex-wife Mia Farrow said: "See you in the Morning beloved Friend. May you rest in glorious symphonies."
Previn was married five times, including to Farrow from 1970-79.
His musical achievements included winning 10 Grammys and four Oscars, and an 11-year stint as principal conductor of the London Symphony Orchestra (LSO).
He received an honorary knighthood from the Queen and became a household name on British television with a series called Music Night. But many will remember him being called Andrew Preview by Morecambe and Wise.
In the 1971 sketch, he berated Eric Morecambe for playing all the wrong notes for Grieg's piano concerto. He was met with the famous response: "I'm playing all the right notes, but not necessarily in the right order."
Comedian Stephen Fry wrote on Twitter: "All those Oscars, awards and achievements and yet most of my generation will always think of him as Andre Preview, conducting Eric Morecambe. He probably wouldn't mind..."
Cellist Steven Isserlis described him as being "a charming, approachable man... so far from being a prima donna". He added: "And then there was the Morecambe and Wise show..."
Others paying tribute included LSO principal clarinettist and friend Andrew Marriner, who remembered Previn's "divine" touch on the piano, his "fabulously crafted" compositions and his "wicked sense of humour".
He said: "André's music making thrilled me long before I was lucky enough to play with him: but when I did, it was the extraordinary sound he conjured from an orchestra, unmistakably his own, that dazzled."
Previn was the orchestra's principal conductor from 1968 to 1979. LSO chairman Gareth Davies said: "André was one of a kind and a real friend to the LSO. We will all miss him."
Singer Renee Fleming told BBC Radio 3: "He really followed in the Leonard Bernstein path of being able to communicate well with people and humanise the classical arts - and classical music in particular."
Pianist and conductor Vladimir Ashkenazy, a friend of Previn, told the station: "He was incredibly generous in musical expression, he was very versatile, he had a lot of different repertoire and he was always a very good collaborator."
Actor, writer and singer Seth MacFarlane paid homage to him as "a musical giant with a wellspring of talent the likes of which we may never see again", adding: "We've lost a compositional genius."
Musicals composer Jason Robert Brown wrote: "André Previn had what I think of as a perfect career, the opportunity and ability to make any kind of music he wanted to make with the best musicians in the world."
And Alan Davey, controller of BBC Radio 3, called him "a consummate professional" and "a natural communicator of the joys of music".
Skip twitter post 3 by Jason Robert Brown
André Previn had what I think of as a perfect career, the opportunity and ability to make any kind of music he wanted to make with the best musicians in the world. That is what I've always wanted my life in music to be. https://t.co/UDyzd1SR3q

— Jason Robert Brown (@MrJasonRBrown) February 28, 2019
The BBC is not responsible for the content of external sites.
End of twitter post 3 by Jason Robert Brown
Previn won Oscars for Gigi, Porgy and Bess, Irma La Douce and My Fair Lady.
He also served as music director for the Los Angeles Philharmonic as well as the Houston and Pittsburgh Symphonies.
In its tribute, the Recording Academy, which organises the Grammys, said: "His eclectic approach to creating music and ability to effortlessly combine genres will continue to be celebrated by our industry.
"André was an incomparable talent, and his legacy will live on through his countless compositions."
His management agency IMG Artists said in a statement: "In the recent years, he occupied his brilliant mind mostly with composing and worked tirelessly on new commissions until only a few days before his passing."
Several of Previn's new works will premiere "in the coming season", it added.