One Man, Two Guvnors: Owain Arthur on taking over from James Corden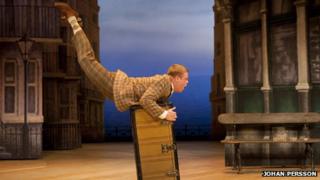 Welsh actor Owain Arthur has described the "challenge" of taking over from James Corden in West End hit One Man, Two Guvnors.
Arthur, who was originally Corden's understudy, is leading a brand new cast at the Theatre Royal Haymarket, playing gluttonous minder Francis Henshall.
"I still sometimes hear James's voice saying a line that I'm saying," he said after Tuesday's opening night.
"But tonight I left him in the dressing room and went on stage as myself."
The new cast includes Oliver! star Jodie Prenger and former S Club singer Hannah Spearritt.
Speaking to the BBC after the show, Arthur admitted that having the Queen attend a preview performance had helped ease his first-night nerves.
"There's been such a build up to tonight, but when the Queen came last week it was an added pressure - so press night was a doddle compared to that."
As an understudy, Arthur filled in for Corden four times during the show's previous West End run at the Adelphi Theatre.
It was during the interval of his very first night on stage that National Theatre director Nicholas Hytner asked the Welsh actor to take over from Corden.
"When he offered it to me it didn't really register," admitted Arthur. "I didn't know what to say, so he carried on talking to fill in the gaps. But I accepted it and here I am."
Hytner told the BBC that Arthur's fame - or lack of it - wasn't an issue.
"It felt like a much better idea to get the guy who we knew to be really good, rather than to go for someone famous.
"We didn't cast James because he was famous. We cast him because we knew he was a great comic actor. We cast Owain because he's a great comic actor, and I'm sure he'll be famous in time."
The early indications from the critics look positive. Describing Arthur as "really rather good", the Daily Mail's Patrick Marmion saysin a four-star review: "Corden had the comic timing and physical comedy off pat and this is a replica performance."
Richard Bean's play, based on Carlo Goldoni's The Servant of Two Masters, first opened at the National Theatre in May 2011.
The slapstick adaptation tells the story of sacked skiffle musician Francis Henshall juggling errands for two bosses in his new job as a minder in 1960s Brighton.
The show opened at the Adelphi Theatre in November to rave reviews.
Arthur's previous stage-work includes Hytner's National Theatre production of The History Boys, as well as Romeo and Juliet for the Royal Shakespeare Company, The Comedy of Errors for the Royal Exchange Theatre and Birdsong at the Comedy Theatre.
"The biggest challenge is getting over myself," Arthur said. "I've never played a leading role in a show especially in the West End. I couldn't shy away from it - I had to go for it and enjoy it."
He said there was no point in trying to imitate Corden's performance.
"Being able to rehearse with a new company forced me to be different. A few lines have been changed to adapt Francis to being a Welshman.
US transfer
Corden and the play's original cast are opening the play on Broadway in April.
"It's the kind of thing that might not cross the Atlantic, but it's worth a try," Hytner said.
"Americans who come to London love it, but the question we can't answer until we get there is whether the wider Broadway audience will get it, whether it tunes into a very British sense of humour. I think it will. A lot of the humour is universal."
Arthur added he had received a message from Corden just before the opening night.
"He sent me a lovely text saying: 'It's yours now - go for it.'
"It felt like an official handover, if you like. It was like he was saying, 'I'll take it to New York, but you're taking over in London. You have it - and smash it!'"