A brief history of big screen flops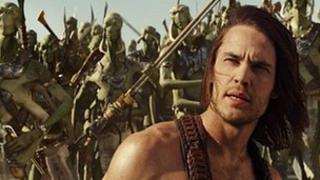 Fantasy film John Carter is on course to be the biggest movie flop of all time - but which films have met a similar fate in recent years?
Disney admits it expects to lose $200m (£126m) on the science fiction film.
The Mars-based epic, based on Edgar Rice Burroughs' galactic adventurer, has been panned by critics.
And that is despite being directed by Andrew Stanton, the CGI genius behind Oscar-winning movies Finding Nemo and Wall-E.
Admittedly, it was his first foray into live action but you might think that a big-name director would guarantee box office success.
But there is no sure-fire formula.
John Carter is not the only movie which has failed to live up to the hype in the history of cinema.
In fact, it is not even the only Mars-themed movie to have been cursed.
According to the Hollywood Reporter, last year's biggest box office flop was another Disney movie, Mars Needs Moms, which cost $150m to make and only took $39m at the box office.
Red Planet, starring Carrie-Anne Moss and Val Kilmer, was another science fiction film flop.
Released in 2000, it lost $82.4m worldwide, taking inflation into account.
Indeed, Disney may even have been aware of the curse - it deleted the words "Of Mars" from John Carter's original title, fearing it was box office poison.
But The House Of Mouse, as Disney is known by its staff, might have been considered brave for considering a movie based on Mars at all.
The studio has now been stung by Mars movies on four separate occasions - with John Carter, Mars Needs Moms and earlier box office flops Mission To Mars (2000) and My Favourite Martian (1999).
Setting aside sci-fi, even A-list stars cannot provide a cast-iron guarantee. Take Gigli in 2003.
It starred Jennifer Lopez and Ben Affleck - a couple at the time and dubbed Bennifer by the gossip columns.
But after earning $4 million in its opening weekend, it suffered a second weekend drop of over 80%. Gigli was withdrawn from cinemas after only three weeks, one of the shortest theatrical runs on record for a big Hollywood film.
Kevin Costner had an exemplary movie record in the early 1990s - he won Oscars for best picture and best director with Dances With Wolves and went on to star in hits such as JFK, The Bodyguard and Robin Hood: Prince of Thieves.
But his 1995 film Waterworld is probably one of the most renowned flops in cinema history.
He followed it up with post-apocalyptic movie The Postman - but instead of getting Costner back on track, it cost $80m to make but took just over $17m worldwide.
Even good reviews cannot ensure box office success.
Disney's 2002 science fiction version of Treasure Island - titled Treasure Planet - was critically acclaimed, but the $180 million movie earned only $38 million at the US box office.
World record holder
Some flops have even put their studios out of business.
Take 2001's animated science fiction movie Final Fantasy: The Spirits Within - a loss of nearly $82m was followed by the closure of Square Pictures the following year.
Movies that have suffered the ignominy of losing over $100m include comedy Town & Country in 2001, The 13th Warrior in 1999 and 2005's Sahara, starring Matthew McConaughey and Penelope Cruz.
In Sahara's case, its downfall was not poor box office receipts - it took $119m overall - but its huge budget of $241 million.
One of the worst box office flops was The Adventures of Pluto Nash in 2002, starring Eddie Murphy.
Panned by the critics, it took just $7.1 million but cost $120m to make.
Just ahead of it, The Alamo, starring Dennis Quaid and Billy Bob Thornton, lost $120m.
But topping them all is 1995's Cutthroat Island, which lost just under $147m, landing it a listing in the Guinness World Book of Records.
It starred Geena Davis as a pirate and was directed by her then husband, Renny Harlin.
John Carter looks set to break this record.
In an interview with Mark Lawson on Radio 4's Front Row earlier this month, Andrew Stanton said: "I've always worked with huge budgets, I mean the truth is, this is all I have ever known."
"Having said that, I've always ignored what the budget is. I've never felt any gain to be worrying about numbers." he added.
The pioneer of computer-generated animated films added that he was only interested in making a good film.