Fans frustrated by Hackney Weekend website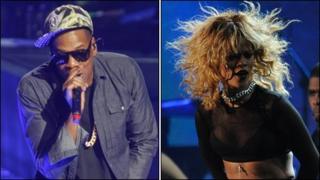 Music fans trying to claim tickets for Radio 1's Hackney Weekend have been faced with error pages and long delays while they try to place their order.
Some people received an "access denied" message from the Radio 1 website, while others complained of hour-long waits.
Radio 1 said ticket agency See Tickets was "experiencing high volumes of traffic", as fans tried to snap up the free passes for the two-day concert.
Jay-Z and Rihanna headline the event, which is part of the2012 Festival.
Other acts in the line-up include Leona Lewis, Example, Plan B, Florence + the Machine and Tinie Tempah.
There are 50,000 tickets available for each day of the concert, which takes place on 23 and 24 June.
The majority of tickets have been reserved for those from Hackney and the other five Olympic boroughs.
But fans, who had to pre-register in order to request tickets on Sunday, have complained the booking system is slow and frustrating.
Many left messages on anunofficial Facebook pagefor the event, voicing their frustration.
"Stupid system as no one can actually get tickets," wrote Sam James Smith. "Phone rings for 2 minutes 18 second then you lovely people cut off. Plus the website keeps crashing."
On Twitter, #hackneyweekend became the UK's top trending subject.
"I have officially given up," wrote Kirsty Espley.
"Let's hope Rihanna and Jay-Z are not having to book their own tickets," added Phill Rolfe.
However, some people have been able to proceed with their orders.
Mark Simpson posted a message on Twitter from Yorkshire, saying: "Got em!!!! Radio 1 weekend here we come. June 25th is going to be awesome."
By 1:00pm, tickets for people living outside London had gone, although a second wave of tickets will be released on Monday.
A message on the Radio 1 Twitter account asked listeners to "bear with us".
"We're aware that some of you are experiencing problems booking tickets,"added a later message.
"We're working hard to get this fixed as soon as possible."