Mad Men scores record US ratings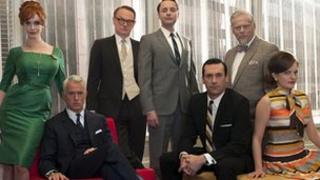 The new series of Mad Men has been greeted with the highest ever ratings for the show in the US.
The two-hour fifth season premiere was watched by 3.5m people, up 21% from the first episode of the fourth series - the previous best ratings.
Fans had been waiting for 17 months for the new series after lengthy contract negotiations with creator Matt Weiner.
UK fans will be able to watch the episode when it airs on Sky Atlantic on Tuesday at 2100 BST.
The award-winning drama set in the advertising world of 1960s New York stars Jon Hamm as charismatic ad executive Don Draper.
Speaking to Radio 1's Edith Bowman, the actor said it never gets dull playing the flawed character.
"What Matthew [Weiner] does very well is he never lets the characters stagnate," he said.
"All the characters are constantly in motion, but it's all happening in the swirl of the business that's constantly changing."
The fifth series opener on Sunday also featured actress Jessica Pare, who plays Draper's wife Megan, performing the 1960s French pop song, Zou Bisou Bisou at her husband's birthday party.
In an unusual move for the show, the single was released on iTunes and hit number one on its download chart on Monday.