Harvey Weinstein film Bully to get unrated US release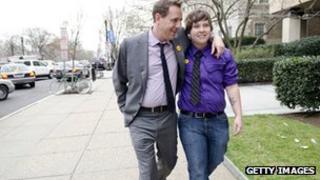 The film documentary Bully is to be released in the US without a rating following a disagreement with the American film classification board.
The film, due out this week, was given an R-rating by the Motion Picture Association of America (MPAA) due to its strong language.
This meant that anyone under the age of 17 must be accompanied by an adult.
But the film's distributor, the Weinstein Company, argued young people should be able to view it on their own.
Boss Harvey Weinstein and Alex Libby, a bullied teenager featured in the documentary, made personal appeals to the MPAA to have the rating cut to PG-13 - but lost a vote to reverse the decision by one ballot.
"Alex Libby gave an impassioned plea and eloquently defended the need for kids to be able to see this movie on their own, not with their parents, because that is the only way to truly make a change," said Weinstein.
An R rating also meant the film would not have been allowed to be shown in schools.
Lost appeal
Releasing the film unrated means anyone can be admitted to a cinema that agrees to screen it - but in the past, many major cinema chains have rejected films without an MPAA rating.
"We believe theatre owners everywhere will step up and do what's right for the benefit of all of the children out there who have been bullied or may have otherwise become bullies themselves," the Weinstein Company's marketing president Stephen Bruno said in a statement.
"We're working to do everything we can to make this film available to as many parents, teachers and students across the country," he added.
In a statement last month, MPAA appeal board chairman Joan Graves said the rating was not a comment on the film's subject matter but was imposed for "some language".
Teenage suicides
Director Lee Hirsch has declined to cut out the offending words, arguing that the language was essential to the story.
"The small amount of language in the film that's responsible for the R rating is there because it's real. It's what the children who are victims of bullying face on most days," Hirsch said in a statement.
"All of our supporters see that, and we're grateful for the support we've received across the board. I know the kids will come, so it's up to the theatres to let them in."
Bully premiered at the Tribeca Film Festival in New York last year and follows students and families in Texas, Mississippi, Georgia, Iowa and Oklahoma.
It also touches on the suicides of two bullied teenagers Tyler Long and Ty Smalley.