Remote Control: ICA show examines TV's influence on art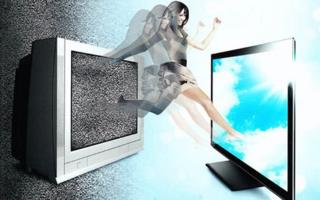 As digital switchover nears completion, a new exhibition at the Institute of Contemporary Art (ICA) looks at the impact of TV upon contemporary culture.
On a hot afternoon at the end of March, an army of electronic towers trundles through the corridors of the ICA like robotic invaders from an early episode of Doctor Who.
In reality, the new arrivals are huge chunks of defunct TV transmitting equipment from Channel Four which once helped feed analogue television signals to the masses.
The transmitters are part of an art installation at the heart of the ICA's Remote Control exhibition, which opens this week.
"There's a long history of artists working with television and monitors," explains Remote Control's curator Matt Williams.
"We were aware of the analogue to digital switchover and we thought: 'Why not?' It's something that hasn't been really been reflected upon in the UK for a number of years."
Because of the rapid change in technology, the ICA has had to ship 17 identical cathode ray tube (CRT) TVs from China because nothing similar could be found in the UK.
The old-fashioned sets will be used to screen 20th Century video artwork in the way it would have originally been seen.
The analogue transmitters were the idea of Berlin-based artist Simon Denny, who will display them alongside works made for TV by artists such as David Hall, Richard Serra and American artist collective Ant Farm.
"It felt important to present the Heath Robinson technology that people don't generally see," explains Denny.
"TV has become an everyday part of our lives, but this is a reminder of the heavyweight material behind the scenes."
Alongside this mass of outmoded technology, Denny has created a vast wallpaper of images from the historic video journalRadical Software.
The magazine was set up in the 1970s by the New York-based Raindance Corporation - a media collective that saw video as an alternative form of cultural communication.
The upper galleries of the ICA show features works on themes of politics, propaganda and identity.
These include Adrian Piper's video installation Cornered (1988) and Harun Ferocki's Videograms (1992), which features edited TV footage of the Romanian revolution of December 1989.
Pop culture and consumerism features in works by Jessica Diamond and Mark Leckey.
Diamond's wall painting TV Telepathy (1989) proclaims in bold black letters: "Eat Sugar Spend Money", within the outline of a television screen. Turner Prize-winning Leckey's work weaves Felix the Cat into his film collages.
As well as artworks from the analogue era, Remote Control also looks at how the next generation is responding to digital convergence.
Tuesday's opening night will feature a reality TV show "star", who will launch a live programme entitled Television Delivers People.
"Now there's the idea that anyone can be a broadcaster," says Williams. "It isn't just in the hands of the big media companies, anyone with a sense of ambition and the right technology can do it."
Apart from transporting huge banks of electrical equipment into the ICA, one of Williams' biggest challenges has been tracking down material by Viennese video artist Fredericke Pezold.
Her Mundwerk is a 1974-75 work consisting of 21 gelatin silver prints of photographs of her own body captured in video stills.
"She detached herself from society, doesn't live in any fixed location and only corresponds by fax," says Williams.
"What's made it more difficult to locate her works is that she because she gave them all the same name!"
Remote Control is at the ICA in London 3 April - 10 June 2012