Aardman's Pirates! risks choppy waters in the US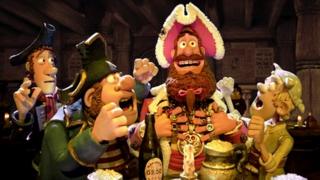 The plot of the latest Aardman film The Pirates! In An Adventure with Scientists is, perhaps, a uniquely British storyline so how well is the movie likely to fare with the tricky American audiences?
The Pirates! tells the story of an incompetent pirate captain, called Pirate Captain, and his crew who set off on an adventure with Charles Darwin.
It's Darwin, though, as never seen before. The father of modern scientific thought is reduced to a lovesick heap by an evil Queen Victoria, who wants to capture the pirate captain's beloved parrot.
The film is adapted from the book by Gideon Defoe and once again, Aardman - the company that created Chicken Run, Arthur Christmas and Wallace & Gromit - makes use of its traditional claymation puppets, but for the first time they are combined with digital 3D technology.
Hugh Grant declares himself "reluctant" to act these days, but director Peter Lord tempted him to provide the voice of Pirate Captain.
"How could I turn Aardman down?" says Grant "For a start, they're British, I adore their films. I grew up watching Peter Lord's creation, Morph on TV. Plus, the film has a surreal childishness about it that is exactly my sense of humour. I couldn't say no to them."
"Aardman is quite rightly a national treasure," says former Doctor Who David Tennant, who voices Charles Darwin. "It was a major part in my decision to get on board."
Based in Bristol, Aardman is a household name in the UK. Yet despite its status, until last week the Oscar-winning company was threatening to leave the UK for cheaper production in Eastern Europe, unless tax breaks were introduced for their industry.
Chancellor George Osborne has responded, promising to keep "Wallace & Gromit exactly where they are" - but it's not the only challenge facing Aardman - and the rest of the British animation industry.
The Pirates! is being released in 30 countries. It'll also be released in the USA at the end of April.
American characters
Aardman's three Oscars for the Wallace & Gromit series may encourage perceptions that its films are an easy sell to the all-important US market. The reality, according to Peter Lord, co-owner of Aardman, is somewhat different.
"My attitude is one of hope," he explains. "We do what we do and we hope the rest of the world will come to the party. I shall now be going around North America and beating a drum and wearing a sandwich board to get them to come to the cinema.
"We'd be interested in doing a sequel for this film because I'd love to re-explore this bunch of characters but it entirely depends upon box office business.
"This is a really rash thing to say, but most of the rest of the world I am quite confident about. We always do really well in places like France and Germany, but America is the tricky one, and that's because I think our brand of comedy is less familiar to them."
"Aardman has a Britishness about it, and a very quirky British sense of humour," says Ray Bennett of The Hollywood Reporter.
"So unless there's a key American character in one of their animations - Mel Gibson was the main voice of Chicken Run back in 2000 - I'm not so sure American audiences respond to it, except in niche fashion. Two of the Wallace & Gromit Oscars were for short films, and that's a highly specialised category."
Mike Goodridge, editor of film trade magazine, Screen International adds: "Overseas, Aardman's market has been profitable, but they have been disappointed lately at the US box office."
Academy snub
The box office statistics for Arthur Christmas seem to back Goodridge up. Despite a Golden Globe nomination, 70% of the film's business came from territories outside North America. In its opening weekend in the USA, it made $4.3m (£2.7m; 3.2m euros) - which was seen as disappointing when set against its $100m (£63m; 75m euros) budget.
Overall, Arthur Christmas took $46m (£29m; 34.5m euros) at the North American box office - but compare that to the figures for another British animation, Gnomeo and Juliet, which made $100m. The latter did benefit, however from being a co-production with the Disney affiliate Touchstone Pictures.
But both Arthur Christmas and Gnomeo and Juliet were overlooked for the Academy Awards - in a year described as "lacklustre" by movie site IndieWire.
Puss in Boots and Kung Fu Panda 2 competed with the eventual winner Rango for the Oscar, along with two tiny European animations, A Cat in Paris and Chico and Rita.
The Pirates! may fare much better as it's already received high critical praise - the Daily Telegraph describes it as"comic genius"and the Daily Mirror applauds its"swashbuckling gags and delicious moments".
Yet this praise is from the British press and Oli Hyatt from lobby group Animation UK believes the entire culture of British animation needs to change before any home-grown production company will see true success in the US.
"To some extent, the success of Wallace & Gromit is just like the success of the British film industry as a whole - one big hit and everything's supposed to be OK. For every film that breaks America, we have a raft of films that don't succeed," he says.
"That's why the tax credit for animation has been so desperately needed, as a buffer when things don't go as planned, so companies can carry on making films.
"We also need to start getting animation back on British TV, as it's been squeezed by the decline in the making of children's television. From there, as Peter Lord shows, it's a step up to making films.
"But we also need to change our attitude towards money. In the USA they're quite happy to churn out something like Cars 2 because they know full well it will make them cash that they can put back into making more movies. We need to have that attitude, but in the UK we have this idea that artistic integrity is everything."
The cast and crew of The Pirates!, however, believe preserving the integrity of the film will ultimately bring the real rewards - even if Aardman seems to be sailing alone for Britain.
"The amount of care and love and attention that's gone into this film, that's what is overwhelming," says Tennant. "Making it for success or for awards is like chasing the wind. It misses the point."
Grant agrees. "I have found the more British you are, the greater chance you have of having international appeal. The inverse is true too. The more international you are, the less chance you have of pleasing people. You have to be true to what you believe in."
The Pirates! In An Adventure With Scientists is released in the UK this week.