Singer Feist takes home Juno threesome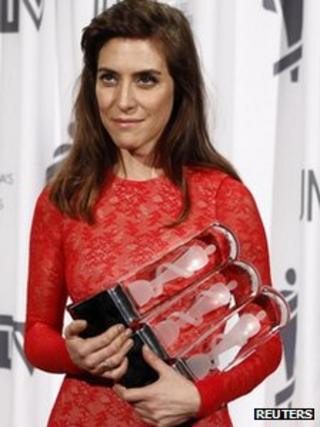 Singer Leslie Feist was named artist of the year at this year's Juno awards, Canada's version of the Grammys.
The 36-year-old performer also picked up awards for adult alternative album of the year and music DVD of the year ahead of Sunday's ceremony in Ottawa.
Crooner Michael Buble won album of the year for his Christmas disc, while pop star Justin Bieber won the Fan Choice award for the second year running.
Veteran Star Trek actor William Shatner hosted the glitzy event.
"I just need a second," said Feist as she accepted the artist of the year prize, the 11th Juno of her career. "I'm just in shock.
"I guess all I can really do is try to express some genuine gratitude," she continued.
Feist is a former member of indie group Broken Social Scene, but has released solo records throughout her career.
Her profile received a boost after the jaunty 1-2-3-4 was selected for use on an iPod nano advert.
Reviews for Metals were overwhelmingly positive, with critics noting a new "visceral quality" to the singer-songwriter's work.
Neither Buble nor Bieber attended this year's Junos, which kicked off with a performance from rock band Nickelback.
The group, previous recipients of 12 Juno awards, had been nominated in four categories but ended up empty-handed.
Adele's 21 was named international album of the year, while rock band Blue Rodeo were inducted into the Canadian Music Hall of Fame.
Arcade Fire were the big winners at last year's gala, receiving album of the year, group of the year and two additional awards.