Battleship: A board game blockbuster?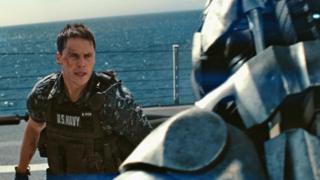 Blockbuster action movie Battleship stars Rihanna and is based on a board game. Will it float anyone's boat?
Peter Berg used to be an actor. Before he directed films like Hancock and Friday Night Lights, he had roles in box office hits The Last Seduction and Cop Land.
So you might think he would be sympathetic to the cast of his latest film, Battleship.
You would be wrong.
Here's how actress Brooklyn Decker describes her audition. "Peter said, 'I need to see snot bubbles coming from your nose and tears coming from your eyes. Otherwise you're not getting the part.'"
Rihanna, who makes her acting debut in the film, describes how she was forced to lift heavy sandbags and perform push-ups to prepare for her role as a Navy officer.
"And I hate push-ups," she complains, "because they make your boobs disappear."
Even Taylor Kitsch, the film's star and one of Berg's most frequent collaborators, was thrown off a roof and stunned with a taser in the opening scenes.
"There's definitely moments where you think he may have a personal vendetta against you," he says.
In the flesh, Berg doesn't show any signs of being a diabolical sadist. He has enormous reserves of energy, but he's witty and self-deprecating too.
Asked about torturing his cast, he says there were valid reasons.
"Remember Butch Cassidy and the Sundance Kid?" he asks.
"Sundance liked to move. If he stood still and tried to shoot, he couldn't hit anything. If he was allowed to move, he could hit it."
Naval warfare
It's like that with actors, he explains. "Nervousness sets in. It's best to shake them around a little bit.
"Just say, 'It's okay, try something stupid. You're not going to get in trouble.'"
"Try something stupid" could almost be the tagline for Battleship. It is, after all, a film based on the children's board game, where opponents try to sink each others vessels by calling out grid positions: "C4 - miss"; "E8 - hit", etc.
The game isn't renowned for its narrative, but Berg warns critics not to scoff.
"The game's all about naval warfare," he says. "You've got five ships fighting five ships."
Those ships, he continues, "have got to have people in them". In turn, the crew "have issues and dynamics" of their own.
"You're only limited by your imagination," he concludes.
To be fair, the way the film incorporates the tactics of the board game is quite ingenious. What really raises eyebrows is the sudden arrival of aliens, 30 minutes into the film.
It was, according to writers Eric and Jon Hoeber (Red, Whiteout), their "first pitch - Navy saves the world from invasion".
"It's just a fun summer movie," protests Kitsch. "We're not trying to win Oscars here."
Battleship was mainly filmed on location in Hawaii, where the US Pacific Fleet has its headquarters.
Several weeks were spent at sea, with the crew sucking ginger sweets to keep nausea at bay.
The perils of filming on water are legendary, so Berg took some advice from a veteran of the open seas - Kevin Costner.
"Kevin had a lot he wanted to get off his chest," laughs the director. "He'd been waiting for somebody to try and do what they did on Waterworld."
Costner told Berg to bring along "three of everything" because, if equipment broke, he wouldn't be able to return to shore for a quick replacement.
"He also said crew members would get tired and disoriented and they'd fall into the ocean," recalls Berg. "Sure enough we had guys, three days in, just falling off the barges."
One thing Costner didn't mention, however, was the lack of toilet facilities in the middle of the sea. Tales abound of the crew relieving themselves in the Pacific when the cameras stopped rolling.
This comes as news to Rihanna.
"I'm so grossed out by that!" laughs the singer. "But it probably happened. You're in the ocean. There were like 40 people in those scenes. Urgh!"
Compromises
As you might imagine, making a film about the US Navy requires a certain amount of co-operation from the military.
Sure enough, the movie features real-life destroyers and even the 45,000-ton retired battleship USS Missouri, which was involved in the fighting at Iwo Jima and Okinawa during World War II.
Former servicemen feature prominently, with several veterans of Pearl Harbor (both US and Japanese) cast as background actors.
In a more prominent role, US Army Colonel Gregory D Gadson makes his film debut as Lieutenant Colonel Mick Canales, an irascible war veteran who springs into action when Oahu is threatened.
Col Gadson, like his character, is a double amputee, having lost both of his legs while serving in Iraq.
"He's a strong guy, in every sense of the word," says Decker, who shares most of her scenes with the war veteran.
"He's huge, he played football at MIT, he's a colonel in the army - but he's also very vulnerable.
"There were times we were shooting and he would slip. His legs would go out from beneath him and we'd both go tumbling down in the mud."
Decker, a former swimwear model who plays a physical therapist, says there was never an issue over Col Gadson's condition being used in the film.
"I think it shines a light on a group of people who don't get a lot of recognition.
"There's a scene where I go into the military hospital in San Antonio. Everyone in that scene is active military.
"They're all troops that have lost limbs, or have burns, or have brain injuries. They're seen as heroic in this movie.
"For Greg to be the face of that, I think was a huge honour for him."
The film's portrayal of the military is unashamedly positive. Berg even describes himself as a "liberal-hating liberal".
"Being the son of a marine, and having a lot of friends in the military - some of whom have died, both in Iraq and Afghanistan - it's no secret that I respect the military."
Working with the armed forces meant a few compromises - one actor was recast after it turned out he was over the Navy's regulation weight - but Berg denies the film is a tub-thumping recruitment advert.
"The key for me," he says, "is the dangers of having encounters with aliens. I thought that might open it up.
"If you come into the movie and you feel like you're having propaganda fed to you, you're going to have a very clear reaction. You're not going to like it.
"But this movie is certainly not Black Hawk Down, and it's not Pearl Harbor."
Battleship is released in the UK on 11 April.