Woman in Black film sequel announced by Hammer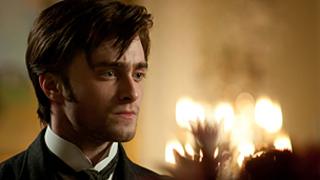 The Woman In Black is to get a sequel, after the first instalment became the highest-grossing British horror film of the past 20 years.
The Woman in Black: Angels of Death takes place 40 years on from the spooky events of the first movie.
That one, starring Daniel Radcliffe, has made £75m worldwide so far.
Hammer will produce the movie, adapted from a story by author Susan Hill which follows a couple encountering the haunted Eel Marsh House.
The Woman in Black, which was directed by James Watkins and adapted by Kick-Ass screenwriter Jane Goldman, sat at the number one spot at the UK box office for three weeks.
The new film will be adapted by Jon Crocker.
Hammer Films president Simon Oakes said: "We are proud and honoured to be working with Susan again on The Woman in Black: Angels Of Death, a wonderful new tale every bit as atmospheric and terrifying as its predecessor."
Hammer also recently announced two more films going into production this year - The Quiet Ones and Gaslight, both of which will shoot in the UK.