Charlie Sheen casts his father Martin in new TV show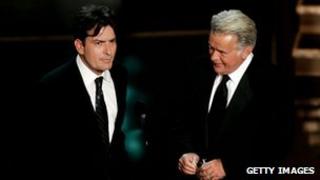 Charlie Sheen and his father Martin Sheen are to team up on screen for the third time, it has been announced.
The younger Sheen told US websiteAccess Hollywoodhis father had been cast as his on-screen father in his new TV show Anger Management.
"We're going to find out this guy does have major issues with his pop and when that character does finally show up, it will be my dad," he said.
The actors appeared together in Wall Street and Hot Shots! Part Deux.
The new series marks Sheen's return to TV after he was sacked from his previous role in Two and a Half Men and replaced by Ashton Kutcher.
He was fired after insulting producer and co-creator Chuck Lorre in several interviews.
The actor filed a lawsuit over the dismissal, which was later settled.
Addressing his absence from TV, Sheen thanked fans for waiting for his return.
"I want to thank them for being patient and waiting a whole year. But they won't be disappointed. We will not let them down."
In Sheen's new show, which premieres on FX in June, the star plays an ex-baseball player who had anger issues during his career, which led him to become a therapist.
"It's such a multi-dimensional character to play," he said.