David Tennant to play spy in BBC drama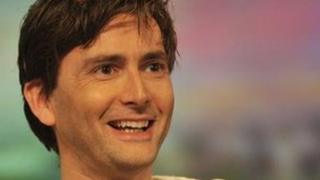 Former Doctor Who star David Tennant will play a French spy in a forthcoming BBC Four show by the writers of The Likely Lads.
The Spies Of Warsaw, based on the best-selling novel by Alan Furst, is set in Poland, Paris, London and Berlin in the years leading up to war.
The drama, by Dick Clement and Ian La Frenais, will also star Merlin actress Janet Montgomery.
BBC Four controller Richard Klein said it would be "thrilling and insightful".
He added that the series would be a "top class drama" providing a "very different take on the Second World War".
Over the last 40 years, Clement and La Frenais have created some of the most popular shows on British TV, including Porridge, Lovejoy and Auf Wiedersehen, Pet.
Some of their more recent projects have met with mixed reception - car-hire sitcom Full Stretch and a TV spin-off of The Commitments were both short-lived.
But they have a parallel career in Hollywood, where they "punch up" dialogue in films such as Bad Boys 2 and Tower Heist.
Their own movie scripts include glam rock movie Still Crazy and Aardman animation Flushed Away.
Filming for Spies Of War will start next month in Poland.