Herb Ritts photo exhibition launches in Los Angeles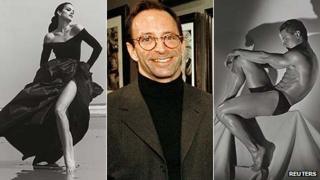 The work of US photographer Herb Ritts is the subject of a major exhibition at the Getty Center in Los Angeles, nearly 10 years on from his 2002 death.
Herb Ritts: LA Styleruns until 26 August and features many of the black and white celebrity portraits for which the Los Angeles native was renowned.
Model Cindy Crawford, actor Richard Gere and Olympic diver Greg Louganis are among those featured in the show.
Ritts died in December 2002 at the age of 50 from Aids-related complications.
Born in 1952, Ritts began his career in the late 1970s taking informal portraits of friends in the movie industry while working in his family's furniture business.
His breakthrough came in 1978 when he took a photograph of actors Jon Voight and Ricky Schroeder on the set of their film The Champ.
Two years later he photographed a young Richard Gere, then starring in American Gigolo, at a petrol station in the California desert.
He developed a personal style working on a range of subjects, from fashion spreads and nude studies to music videos for such artists as Chris Isaak, Madonna and Janet Jackson.
In a recorded introduction to the exhibition, Gere said the show marked the beginning of "a continuing evaluation of Herb's work".
"I respect him so much as an artist but even more so as a close friend," the actor continued. "He had a way of making people feel very safe."
According to the Getty Center, Ritts "revolutionised fashion photography, modernised the nude, and transformed celebrities into icons".
The show will travel to the Cincinnati Art Museum in Ohio and the John and Mable Ringling Museum of Art in Florida after its California run.